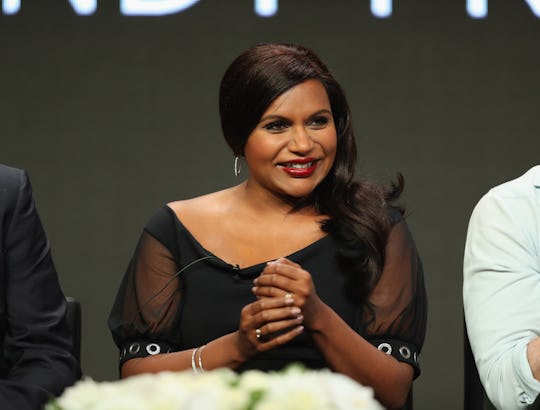 Joe Scarnici/Getty Images Entertainment/Getty Images
Mindy Kaling Reportedly Shared Pregnancy Deets With Oprah, & OMG
Though she's yet to officially confirm the news herself, Mindy Kaling talked about her pregnancy with Oprah Winfrey, according to People, and her reaction was just what you'd expect. Winfrey said that she was standing in a press line at Disney's D23 expo when Kaling told her, "'Oh, Oprah, I don't think you know. I'm 5 months pregnant.' And I said, "WHAAAAT?!'" Can't you just picture it? You just know that she's the type of friend who reacts to all good news the way most people would react upon hearing, oh I don't know, that they were getting a free car, maybe. "I'm excited for her," the actor/host/billionaire explained.
Winfrey and Kaling were at the expo promoting their upcoming film, an adaptation of A Wrinkle In Time, along with their costar Reese Witherspoon and director Ava DuVernay. No word yet on Witherspoon's reaction, but she strikes me as the type who would scream, and now I really wish Kaling had told her costars at the same time — and filmed it. Can you imagine the kind of baby shower those two could put together? This is what Pinterest and Instagram were created for. Let's make this happen, ladies! I'll bring the deviled eggs!
The news of Kaling's pregnancy first broke in mid-July, and a source told E! News that it was "an unexpected surprise." According to People's source, "She just started telling her friends she is pregnant," and "She is not telling anyone, not even close friends, who the father is." Considering how many of her friends ran straight to the media once she shared her news, I'm not blaming her. Winfrey wasn't talking out of turn, though; while Kaling has yet to speak publicly about her pregnancy, she didn't bother hiding it at the Television Critics Association's summer press tour on Thursday. ET Online reported that "a noticeably tiny baby bump" was visible as she posed on the red carpet.
Kaling has always been candid about her interest in starting a family. In a 2014 interview with Flare, she said, "this has been the first year I realized that if I want to have three kids, I need to get going." And in 2015, she told InStyle, "I don't have a particular urge to get married, but I do know with certainty that I want to have kids." A passage in Kaling's book Why Not Me? describes waking up at 4:00 a.m., wondering "What if my kids are really young when I die because I waited too long to have them?" according to People. Happily, she doesn't have to worry about that anymore.