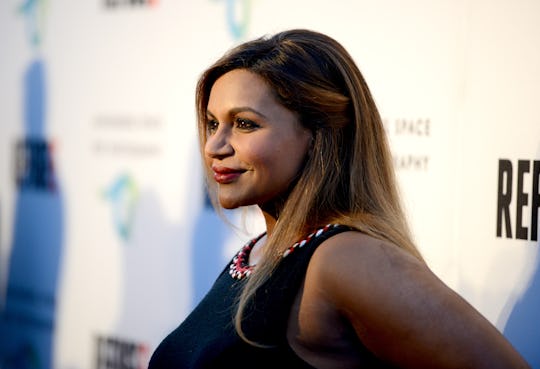 Michael Kovac/Getty Images Entertainment/Getty Images
Mindy Kaling Reveals What Kind Of Mom She Wants To Be Once She Gives Birth
If there is one universal truth out there it's that motherhood changes you. Well, that and the fact that ice cream is always necessary. But truly, becoming a mom means that you are now completely involved in another human being's life. And watching someone you love become a mom is usually a pretty amazing and entertaining experience. Even if that person happens to be a celebrity you've never met. And now, that, Mindy Mindy Kaling has revealed what kind of mom she wants to be, prepare to love her even more. Because it's the exact, hilariously perfect answer you'd expect from her.
After the news broke that Kaling was pregnant back in July, fans everywhere were overjoyed for the actress, comedian, writer, and creator of her own hit show, The Mindy Project. Of course, ultra fans also made connections between Kaling's character on the show, Mindy Lahiri, who became a mom in the third season. Many imagined Kaling would be a similar mom to her actual baby as her character is in her show. Basically, many have been assuming that Kaling will be sassy, loving, attentive, and doting as a mother, and they're probably right. However, Kaling has spoken out about the kind of mom she pictures herself to be, and the answer is equal parts hilarious and adorable.
Speaking to the Sunday edition of the TODAY Show, Kaling revealed that she would "like to be the fun mom," although she knows it isn't as easy as that:
I know I'm gonna be the dorky mom. So it could be kind of fun, too. I think that would be nice.
Obviously, Kaling knows herself pretty darn well, and is aware that her future child will probably think of her as a bit "dorky," but that's OK. After all, dorky moms are some of the best moms out there!
But, Kaling didn't stop there. She also recognized that she can't really say much about how she'll be as a mom until it actually happens. She explained to TODAY in a previously aired clip of the interview:
It's so easy to criticize parenting until you're a parent, so one of the nice things about becoming a parent is that I'll be able to openly criticize other parenting because I will have a child.
And honestly, even though Kaling is making a joke, she still manages to make a good point. Being a mom and a parent is hard work, and as cliché as it sounds, it's something that you really can't understand until you experience it firsthand.
Of course, every mom is usually trying their best to be a good mother to their child, and criticizing them isn't the best course of action for the most part. But clearly, Kaling was joking, and she knows she's going to have an adjustment period after giving birth.
But really, Kaling's ultimate inspiration for motherhood? Her own mom, of course. She told TODAY:
My mom was incredibly fierce and so devoted to us, just loved us and really wanted us to be happy no matter what we did. My career choice was not something that she was familiar with and she was just so supportive of that. And if I could give that to my child, just that open-mindedness, I'd be so happy.
Unfortunately, Kaling's mother, Swati Roysircar, died of pancreatic cancer in January 2012. Actually, "her mom died the same day The Mindy Project was picked up by Fox," the Los Angeles Times reported. And in fact, Kaling based a lot of her lead character, Dr. Lahiri, around her own mother who was also an OB/GYN.
Truly, Kaling's mother would be incredibly proud of everything she has become. And whether she ends up being the goofy mom, the dorky mom, or the fun mom, Kaling clearly has a pretty great source of inspiration when it comes to parenthood.
Watch Romper's new video series, Romper's Doula Diaries:
Check out the entire Romper's Doula Diaries series and other videos on Facebook and the Bustle app across Apple TV, Roku, and Amazon Fire TV.