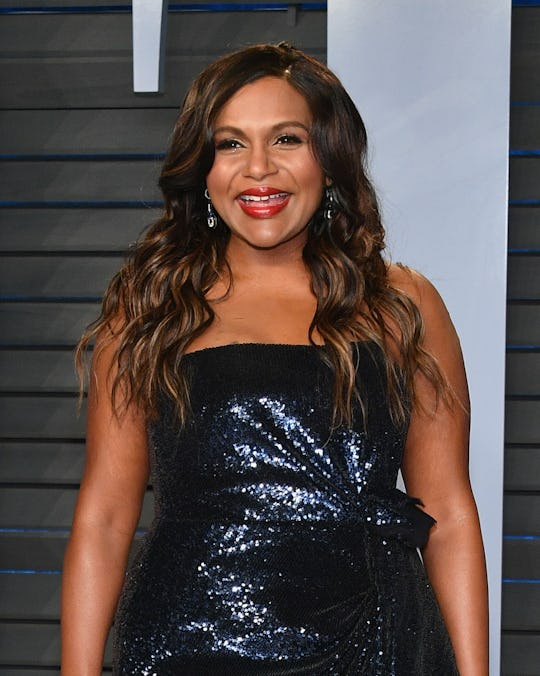 Dia Dipasupil/Getty Images Entertainment/Getty Images
Mindy Kaling Says She's Grateful She Had A Child "A Little Later" In Life
When it comes to timing kids, career, and all of the other big milestones in life, there's no one "right" way to experience everything you want to. Though there are decidedly harsh expectations set upon women in particular regarding the ages at which they "should" do arbitrary social norms like marriage and child-rearing, Mindy Kaling says she's grateful she had a child "a little later" in life, reminding us all that we're all on our own path.
People reported that Kaling said: "I'm really lucky because I get to create my own job opportunities. Because I do that, I can fit my daughter into my job. It's a luxury most American women don't have." She continued: "It's one of the nice things of having had my baby a little bit later in my career. I can be like, 'Hey, I want a little area that I can have my daughter play because I want to check up on her at work.' That is probably the biggest perk of my life: to involve my daughter so much in my career."
Kaling gave birth to her first daughter, Katherine, in December of 2017, as Us Weekly reported. During an appearance on the TODAY show while pregnant, Kaling proved that she had a really measured and self-aware approach to parenting even then, saying: "It's so easy to criticize parenting until you're a parent, so one of the nice things about becoming a parent is that I'll be able to openly criticize other parenting because I will have a child."
Now, Kaling is adjusting to life with her new daughter beautifully. She also told People that aside from keeping up with work, she's moonlighting as her daughter's swim instructor.
"I'm teaching her how to swim. It's great when you teach a 9-month-old how to swim because the bar is really low, which is great because I'm not a really strong swimmer but it's making me feel athletic," Kaling said. "Every weekend now I try to swim with her, like 45 minutes in the pool. It's one of the nice things living in Los Angeles. I can pretty much do that all year round and slowly teach her how to swim."
As for milestones, it seems Katherine is hitting many of them nicely. "She started saying 'Mama.' Although she's kind of just saying like, 'Mama mama ma.' So I have decided to just take it personally and decide that she is saying 'Mama' to me. Although she says it to the lamp," Kaling joked in the same interview, before also keeping it real and sharing that her baby is so messy, she's pretty sure she isn't going to go out to eat with her in public until she's an adult.
"She is so messy. I've never taken her to anywhere fancy. Forget it, she's not going to somewhere fancy until she's 21," she joked.
Back in March, Kaling opened up about what it was like to juggle a meteoric career and be a single mom. TODAY reported she talked about her hopes for her daughter, and how she wants her to embody confidence.
"Confidence is important and good — when it's married to hard work. If you feel like you have done hard work, it behooves you to be confident. You need to own it. I want her to be unafraid of owning that," she told the network. "It's a very unattractive quality to be entitled without doing the hard work."
Kaling continued: "I knew how much I would love her and love the experience of being with her. I never understood how much I would worry and how much that worry is unceasing. Happiness for me, now, is just a feeling of relief. I'm in a constant state of worry but I'm enjoying it too. I hope she's developing correctly — I'm anxious constantly. I'm hoping that will change a little bit. I haven't even thought about when she's bigger."
Be that as it is, it's clear that Kaling isn't just a great mom, but an inspiring voice for those who are forging their own path on their own terms.