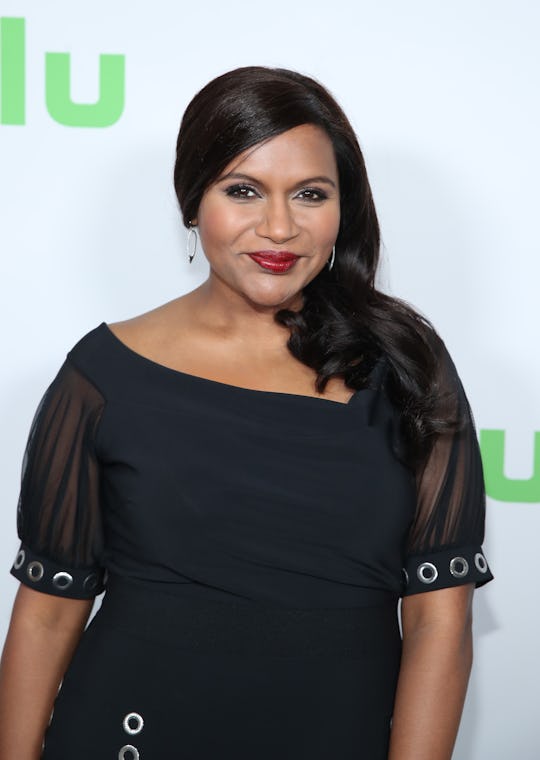 Jonathan Leibson/Getty Images Entertainment/Getty Images
Mindy Kaling Showed Off Her Baby's Stroller & You'll Literally Want One For Yourself
When Mindy Kaling first announced her pregnancy, fans of The Mindy Project undoubtedly let out a collective "squeee!" The actor/producer/screen writer/do-it-all wonder woman first confirmed her pregnancy back in October, and she was already pretty far along at that point. Kaling gave birth to her first child — a daughter named Katherine — in December. Since then, Kaling seems to have been lying low and focusing on her new baby girl. (And good for her!) However, it seems Kaling has finally broken her social media silence, as far as her newest edition is concerned. On Saturday, Mindy Kaling showed off her baby's stroller, and you'll literally want one for yourself.
Now, this isn't just any ordinary stroller. Not even close. This is a tricked-out, luxury ride fit for a princess. "First walk. Gold rims and wings. Thank you @jeremyscott," the new mama wrote on Instagram, alongside a photo of the impressive carriage, which features a pattern of cherubs on the cloth parts. (Too bad baby Katherine didn't make her Instagram debut, too.) Apparently, the stroller is a Cybex by Jeremy Scott. Because I'm not a loaded celebrity and I don't have any rich friends willing to drop a wad of cash on a buggy of this caliber, I turned to Google to figure out all I could about it. Right from the get-go, I had a hunch this beautiful piece of baby gear would be well out of my budget. And I was right.
If you thought this amazing stroller was just some kind of one-off design, you're seriously mistaken. Just one look at the Cybex by Jeremy Scott website and you are whisked away to a land where the baby gear is more beautiful than the clothes you are wearing — and TBH, that's saying something considering what celebrities wear. Mindy Kaling's stroller is just one part of Scott's collection, which also includes a baby carrier, footmuff, changing bag, and accessories like a parasol and mosquito net for your sweet stroller.
But the stroller in particular that Mindy has is more than just a pretty ride — it's highly functional. According to the Cybex by Jeremy Scott website, the Priam stroller is a 3-in-1 travel system that includes a carry cot, which holds babies up to about 6 months old, an Aton Q car seat which holds babies up until about 18 months, and a Lux seat and frame, which means your kiddo can ride in this stroller until they're about 4 years old. (Take it from a mom of three, a stroller that grows with your child is a god-send.) Oh, also, each part of this stroller is sold separately according to retailers' websites, and the Babesta website currently has just the Lux seat and frame, not in the Jeremy Scott collection, priced at a cool $999.
But hey, pricing aside, this is one incredible piece of baby gear. The thing about being a mom is that baby gear is the new must-have accessory. You can't get by with a tiny clutch on your Saturdays out anymore. You need a diaper bag with room for a change of clothes, bottles, burp cloths, toys, and all the hand sanitizer. You need a stroller, maybe a carrier if your baby prefers to be worn, a car seat, and a million other pieces of equipment just to make it through the day with your babe. It's not an easy feat to find something that makes you feel stylish, makes you feel like yourself, and is still so efficient and functional for your baby.
Well, unless you're Mindy Kaling. Then finding the world's most beautiful stroller is pretty easy. I, for one, can not get over those gold wings and gold rims. All I can say is, man, Baby Katherine is one lucky little gal.
Check out Romper's new video series, Romper's Doula Diaries:
Watch full episodes of Romper's Doula Diaries on Facebook Watch.