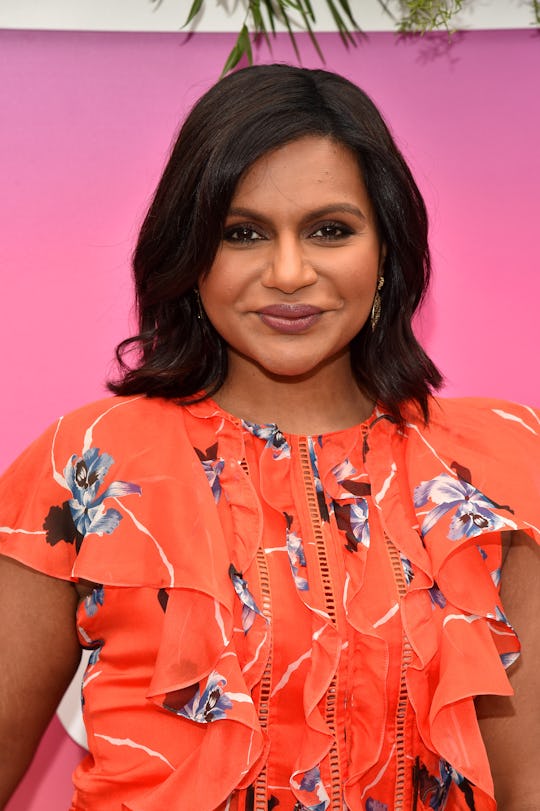 Bryan Bedder/Getty Images Entertainment/Getty Images
Mindy Kaling Gives Birth To Her First Child!
When a celebrity gives birth, it is almost impossible not to feel excited for them. It could be because celebrities are always in the public eye, causing fans to follow along with their pregnancy progress — so when they do finally give birth, it is almost rewarding. From her quiet announcement to her willingness to open up about her pregnancy, watching The Mindy Project star throughout the past few months has been so much fun. And now, it will be even more fun to watch her as a mother because Mindy Kaling just welcomed her first child on Dec. 15, E! News reported on Tuesday, and it couldn't be any more exciting.
Kaling gave birth to a daughter, whom she beautifully named Katherine Kaling, according to E! News. But the birth of Kaling's daughter might come as a shock to some fans of The Mindy Project, since Kaling's pregnancy was kept under wraps the entire time the last season was filmed and was not woven into the show's storyline, as one might expect.
Kaling tweeted out about shooting the show whilst pregnant recently, writing:
I shot the entire last season pregnant and [Salvador Perez] hid it so well! As did Michael Spiller and our cinematographer, Marco Fargnoli. The finale I was almost 7 months along and it was a heat wave. See if you can tell...
But now that her daughter is here, there will be nothing for Kaling to hide any longer. Except, you know, her daughter from prying photographers desperate to get a glimpse of her.
It took a while for Kaling to even admit she was pregnant. Back in July, sources confirmed to People that Kaling was expecting her first child, which sources told E! News was an "unexpected surprise." But Kaling refused to comment on it. Matters were made worse when Oprah spilled the beans and did confirm that Kaling was expecting her first child. Oprah told People that Kaling revealed to her that she was pregnant during a red carpet appearance together, explaining:
That's when she told me. My mouth dropped. "What did you just say?" She said, "Oh Oprah, I don't think you know, I'm 5 months pregnant." And I said "Whaaaaaat?!"
Because of Oprah, the world became aware of how far along Kaling was (thank you, Oprah). But Kaling later said in October, during an appearance on The Ellen Show that she was OK with Oprah being the one to break the news (because it's Oprah, duh). Kaling told host Ellen DeGeneres, according to People:
If anyone is going to announce big news about your private life, Oprah Winfrey is the person. You can't complain that much about it... So if there's one person I have to tell my daughter about that revealed her existence to the world, Oprah is pretty good.
And although Kaling remained pretty quiet throughout her pregnancy, she did tell DeGeneres that she enjoyed the time that she was pregnant, with the exception of a few tasks. Kaling said, according to People:
I've had a pretty great time of it so far. But I think I took a lot for granted before this, now that I'm my current situation — like, sitting. I'm obsessed with sitting. And even when I was standing back there I was looking at this chair and I was like: "Can't wait to sit in that chair. That beautiful comfy chair."
But Kaling will no longer have to worry about taking things for granted now that she has a brand new baby girl to worry about. And for fans, they're obviously dying to see a photo of Kaling's baby has arrived. But, until Kaling is ready to show the world her little one, fans should respect the privacy of the star and her new baby.
Check out Romper's new video series, Romper's Doula Diaries:
Watch full episodes of Romper's Doula Diaries on Facebook Watch.