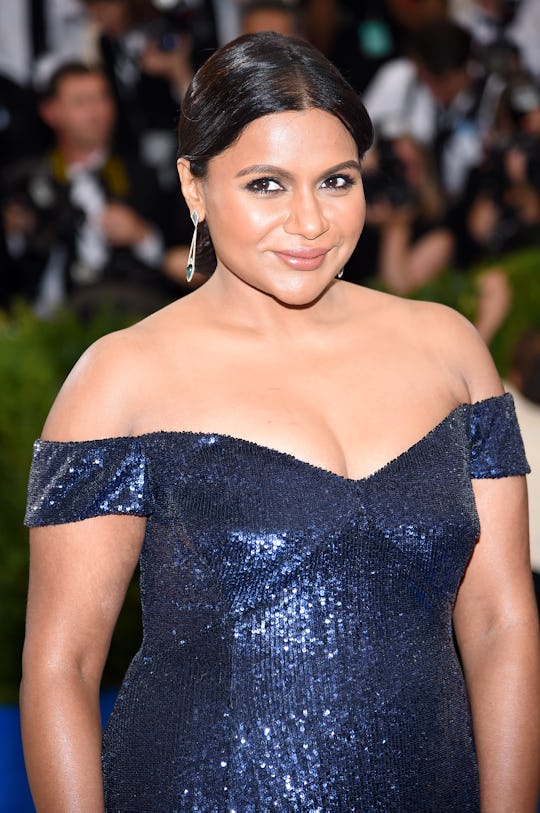 Dimitrios Kambouris/Getty Images Entertainment/Getty Images
The One Detail To Mindy Kaling's Daughter's Name That Is So Freaking Awesome
Mindy Kaling is a badass. She's an actress. A show creator (multiple times over). She's written best-selling books. She is my personal style icon (I shy away from patterns, OK?). And now, Mindy Kaling is officially a mom. E! News broke the news on Tuesday that Kaling gave birth to her daughter Katherine on Dec. 15, and fans were — naturally — elated. But, beyond the initial news, there's one huge detail to Mindy Kaling's daughter's name that fans will surely obsesses over.
E! News reported on Tuesday evening that Mindy Kaling gave birth to her daughter Katherine Kaling on Dec. 15. Did you catch the detail? Katherine Kaling. Yes, Mindy has given her daughter her last name — and really, does it even surprise you? It makes this little days-old girl such a badass, already, following in her mom's already badass footsteps. Should I say "badass" again to really bring home this point?
Since the news came out that Kaling was expecting, fans everywhere couldn't stop asking, "Who's the father?" Kaling wasn't saying, and for some — maybe those who long-time shipped Kaling and Office co-star, B.J. Novak — that mystery killed them. But, the thing is, Kaling doesn't owe anyone the name of the father. She doesn't owe news sources, she doesn't owe Oprah (who broke the pregnancy news, oops), and she sure as hell doesn't owe me his name. In fact, in July, People reported that Kaling wasn't planning on telling anyone. "She's not telling anyone, not even close friends, who the father is," a source said.
For what it's worth, the same source told People that Kaling wasn't dating anyone at that time, so let any fleeting theories run away. Instead of theorizing and whipping out your crime board with potential fathers' faces push-pinned into cork, focus on the fact that Mindy Kaling gave her perfect daughter — I'm just assuming she's perfect, because how can you not be with such a cool mom like my imaginary best friend Mindy — her own last name.
In a year where women used their voices to truly rise up, seeing someone with Kaling's influence make such a feminist call and continue to let her name ring through in her daughter's name is just so... can I say badass again? It's an uncommon move, according to The Guardian in 2013, only 4 percent of women actually gave their surname to their kids. But, this small detail that you may have totally skimmed over when reading initial reports not only allows Kaling's surname to continue (fun fact: Mindy Kaling's real last name is Chokalingam), but it also is a beautiful (and much-needed) step in the direction of kicking a rather outdated, sexist tradition to the curb.
"Come on," some will say to me later in my Twitter mentions. "You're making such a big deal over something that's actually not a big deal at all." Well, to all the internet-folk who may say that this is a tradition that isn't rooted sexism nor man's urge to keep to the Natural Order Of Things, it is a big deal. And sure, maybe there isn't so much meaning rooted in the naming of her daughter. Perhaps Kaling is planning on raising her child as a single — Beyoncé Pad Thai badass — mom. No matter her reasoning, it's important.
To have something that identifies you and forever connects you to the women that come before you is possibly one of the most important things we can do today. Reminding future generations who they are and where they come from — from the strong, independent, career-driven, hilarious women who are fighting for women to consistently be recognized as men's equals — what could possibly be more important than that? An alliteration?
Call it what you will, but naming your daughter with your surname is, and will forever be, totally badass.
Check out Romper's new video series, Romper's Doula Diaries:
Watch full episodes of Romper's Doula Diaries on Facebook Watch.