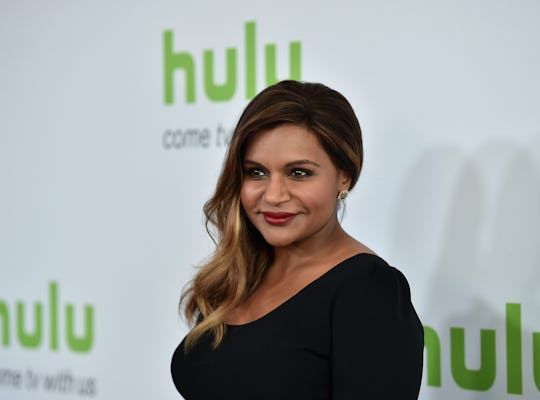 Alberto E. Rodriguez/Getty Images Entertainment/Getty Images
Mindy Kaling's Funniest Quotes About Pregnancy & Motherhood Prove That She Has Serious Comedic Timing
Mindy Kaling is hilarious and you can quote me on that. Kaling is known for her very funny roles on shows The Office and The Mindy Project as well as her role in the writer's room for both of them. So it shouldn't come as a surprise that her humor has carried her over into her newest stage of life — motherhood. After giving birth to a daughter, Katherine, earlier in the year, Kaling has slowly become more outspoken about her experiences. And Kaling's funniest quotes about pregnancy and motherhood prove that she is in the right business, because she is hilarious.
When it was announced this past fall that Kaling was expecting her first child, people were really excited for her. Kaling is known for playing hilarious and relatable characters that resonate with people (like the lovable doctor, Mindy Lahiri, on The Mindy Project). So when she announced that she was going to become a mom, people couldn't help but to be pretty pumped for Kaling and this new chapter of her life. While Kaling chooses to keep a lot of her life private (who can blame her?), she has been honest in multiple interviews about her lack of knowledge about babies and her fears about motherhood.
Her quotes about these things shows that when it comes to the unknown or new situations, the best thing to do is to have a sense of humor through it all.
On Capturing Her Daughter's Milestones
While photos of Katherine might not exist on the internet, that doesn't mean that Kaling isn't taking plenty of them and keeping them to herself. During an interview with People earlier in the week, Kaling revealed that she can't get enough of taking Katherine's picture, and at this rate, it's getting a little out of hand. Kaling said, according to People:
I want to remember everything. She's only been in this world for three months and I have like eight photos of her in my home. At this rate there will be no wall space left!
On The Lengths She'll Go Through To Protect Katherine
Although dans are dying to see more of Katherine, Kaling revealed to TODAY that she was going to keep her daughter private for as long as possible. While this is a completely respectable thing to do, in typical Kaling fashion, she made a joke about it. Kaling told TODAY:
People say "Did you even have a baby?" I'm keeping her under wraps for now. I would kill someone who said anything about her.
On Her Newness To Motherhood
When you're a first time mom, everything can be a little strange and exciting at the same time. During an appearance on The Late Show with Stephen Colbert earlier this month, Kaling revealed that she had not been good with kids until she became a mother, according to People. Kaling told the show's host, Stephen Colbert, according to People:
I was the person, if you had a baby at a party, I would go up to them and shake their hand and be like "Hello." So I didn't know or understand how to be around babies.
On Becoming Jaded By Babies
But now that she is a mother, Kaling has no problem with babies and doesn't let anything they do affect her. In the same interview, according to People, Kaling told Colbert that motherhood has changed her in a big way:
I was on planes [and] when babies would cry, I would be mad at the families. Now I'm like, "Let them cry, let them do whatever they want. They can sit on me and poop if they want. Now I know more.
On Her Newfound Ability To Judge Other Parents
After confirming that she was pregnant on an episode of Sunday TODAY, according to Time, Kaling revealed that she was "anxious" about becoming a mother but she was excited for a few things as a new mom — like the ability to criticize others. "It's so easy to criticize parenting until you're a parent, so one of the nice things about becoming a parent is that I'll be able to openly criticize other parenting because I will have a child," Kaling said.
Mindy Kaling shouldn't quit her day job because these humorous quotes about her personal life make it clear that is is pretty darn good at being funny.