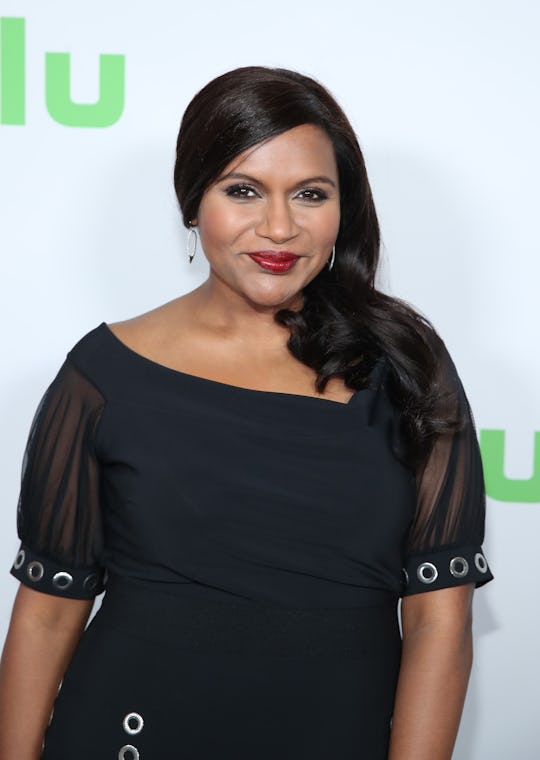 Jonathan Leibson/Getty Images Entertainment/Getty Images
Mindy Kaling's "Mindy Lahiri Mini Me Dress" For Her Daughter Is The Cutest Thing Ever
Mindy Kaling is a notoriously private person; so it wasn't too much of a shock when the actress remained quiet about her baby news throughout the majority of her pregnancy. (I mean, she even shot the last season of The Mindy Project with a bump. NBD.) It wasn't until Oprah spilled the beans about the star's big news that she finally commented on it. So it only makes sense that Kaling would continue to keep things on the DL after she delivered her first child. True to form, the new mom has yet to share a photo of her baby girl, Katherine. She has, however, posted photos of her epic baby gear on social media. And Mindy Kaling's "Mindy Lahiri mini me dress" for her daughter is basically the cutest thing ever.
The funny actor/producer/writer/do-it-all-super-talented-star took to Instagram to show off an adorable outfit that was created just for baby Katherine. And it's just too perfect. As with the majority of Kaling's costumes for The Mindy Project, this one in particular was a Perez creation — and now, Kaling's daughter has a matching dress! "Baby couture care of @salvadorperezcostumes," Kaling wrote on Instagram, alongside a photo of herself holding up the darling garment. "I can't even with this Mindy Lahiri mini me dress." Take a look for yourself!
It looks like The Mindy Project designer Salvador Perez had been busy creating a pint-sized replica of a dress Kaling's character, Mindy Lahiri, wore in the season six finale, according to Fashionista. For fans of the show, this gorgeous pink-and-gold-ombre lace dress is what Lahiri wore to Morgan's wedding. The process of creating this beautiful piece was pretty involved, so I'm guessing the making of Katherine's dress was no easy feat in itself.
Based on Kaling's baby-related Instagram posts, it seems baby Katherine is rockin' her newborn days in style. The only other inclination that Kaling is a new mama — based on her Instagram feed — is a shot of baby Katherine's seriously impressive ride. "First walk," Kaling captioned the photo. "Gold rims and wings. Thank you @itsjeremyscott@cybex_global#CYBEXbyJeremyScott." Holy crap, just look at that stroller! The cherub print. The golden wings. The gold-rimmed wheels. I want it all! She may only be 1 month old, but little Katherine Kaling is one fashionable newborn.
As E! Online reported, the 38-year-old gave birth to her first child on Dec. 15. Kaling kept the news quiet for most of the pregnancy — that is, until Oprah Winfrey spilled the beans. People reported that Winfrey shared the baby news back in July, at Disney's D23 expo while in a press line for A Wrinkle In Time, in which both Winfrey and Kaling are stars. "That's when she told me. My mouth dropped," Winfrey to People. "'What did you just say?' she said, 'Oh, Oprah, I don't think you know. I'm 5 months pregnant.' And I said, 'WHAAAAT?!'"
Even though Winfrey was the one to announce Kaling's pregnancy, The Mindy Project star wasn't too bent out of shape over it. "If anyone is going to announce big news about your private life, Oprah Winfrey is the person," Kaling told DeGeneres while appearing on her show back in October, according to Redbook Magazine. "And you also can't be like, 'Hey, Oprah, zip it,' because she's almost like a religious figure." LOL. She does have a point, there.
I know the odds of this happening are slim-to-none, but I am just dying to see a photo of Kaling wearing that gorgeous lace ombre dress while holding baby Katherine in her matching outfit. (Seriously, the cuteness level would just be too much to handle.) At the same time, though, I totally support Kaling's parenting call. If she wants to protect her daughter's privacy by not sharing photos, then I'm more than okay with that. Although it's bound to drive her fans crazy, this is a very personal decision that we should all respect. Besides, in absence of Kaling's actual baby, I'm perfectly content with drooling all over her epic baby gear.
Check out Romper's new video series, Romper's Doula Diaries:
Watch full episodes of Romper's Doula Diaries on Facebook Watch.