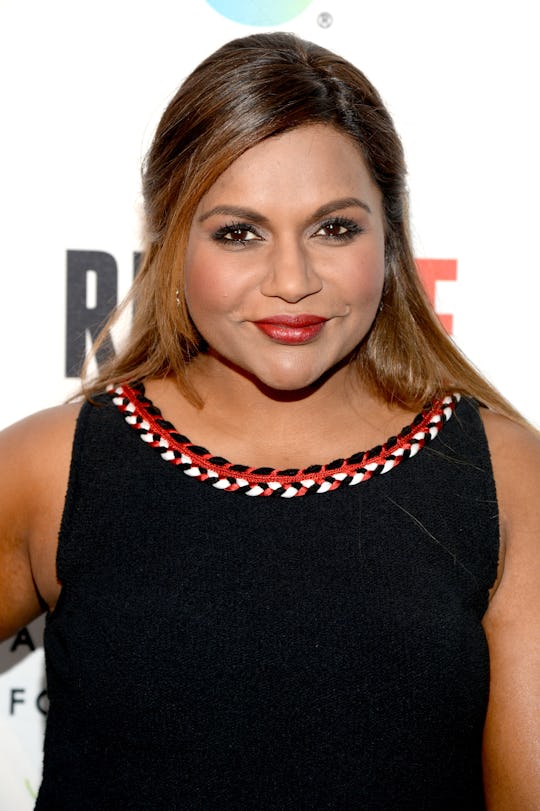 Michael Kovac/Getty Images Entertainment/Getty Images
Mindy Kaling's Net Worth Is An Impressive Display Of All Her Success — So Far
Mindy Kaling has one of those personalities you can't help but love, and it has undoubtedly contributed to her on-screen success through the years. Between her hilariously blunt role as Kelly Kapoor on The Office and her character Mindy Lahiri on the The Mindy Project — not to mention her writing, directing and producing for both shows and more — she has amassed an extremely loyal fan base. As The Mindy Project wrapped up its sixth and final season (which is streaming on Hulu) and as the comedian welcomed her first child this past Friday, Kaling is still at the top of her game. And Mindy Kaling's net worth has made quite a name for herself and continues to do so with plenty of projects lined up for the new year.
The Richest pins Kaling's estimated net worth at an impressive $18 million. According to the website she is believed to have gained the bulk of her wealth from her role as Kelly Kapoor on The Office. However, Celebrity Net Worth pegs Kaling's net worth at $24 million, with the star getting paid $150,000 per episode on the hit series. Although it seems the exact figure seems to be up for debate, it's clear Kaling has done exceptionally well for herself.
Let's take a look back on Kaling's timeline of success, shall we? She was actually born as Vera Mindy Chokalingam in 1979 in Massachusetts, according to IMDb. After graduating from Dartmouth College with a degree in playwriting, according to Celebrity Net Worth, she acted on-stage and then made her first TV appearance in Curb Your Enthusiasm. Her first movie role was The 40-Year-Old Virgin. Fun fact: Kaling was actually a writer for The Office while she played Kelly Kapoor in 174 episodes from 2005 to 2013, according to the website.
Starting in 2012, Kaling stared as OB-GYN Mindy Lahiri on the comedy on The Mindy Project. And somewhere in the midsts of all of that (seriously, does this woman ever sleep?) she managed to write two books: Why Not Me? and Is Everyone Hanging Out Without Me? (And Other Concerns). Other recent film credits, according to IMDb, include: A Wrinkle in Time, Ocean's 8, Inside Out, Wreck-It Ralph, The Five-Year Engagement, No Strings Attached and Despicable Me, to name a few.
So what's next for the talented writer/producer/director/actor extraordinaire who recently wrapped up another successful series and a pregnancy? "There's so much that I want to do in my life that I can't believe how short it is," Kaling told TODAY's Willie Geist in September. "You know? And especially when my mom passed away and she was so young, I just kind of think like god, you really have to just pack it in."
She added that there's a movie she wrote for Emma Thompson and herself, and they will be shooting it this spring. Oh, and of course, her newest little addition! "People tell me when they have children, they like to spend time with them," she told Geist. "So I'd like to spend time with my child."
News of Kaling's pregnancy was first reported back in July as an "unexpected surprise, E! News reported. "I'd like to be the fun mom, I know I'm gonna be the dorky mom," she told TODAY back in August, according to E! News. "So if I can be kind of fun too, I think that would be nice."
As the the world found out on Tuesday, the 38-year-old actress welcomed her first child on Dec. 15 — a baby girl she named Katherine Kaling.
I can't wait to see what's next for Mindy Kaling — because I have a feeling motherhood is going to make her even more fierce and driven than ever.
Check out Romper's new video series, Romper's Doula Diaries:
Watch full episodes of Romper's Doula Diaries on Facebook Watch.