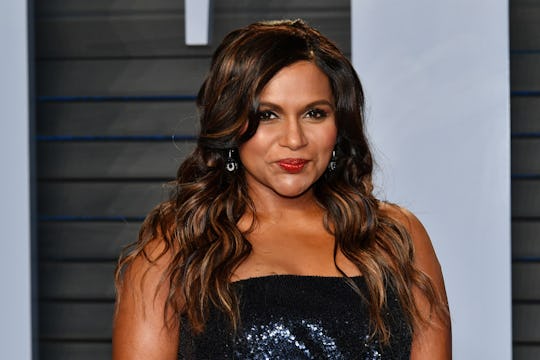 Dia Dipasupil/Getty Images Entertainment/Getty Images
Mindy Kaling Had The Best Response To Idris Elba Being Named "Sexiest Man Alive"
Supremely talented funny lady Mindy Kaling is known for her roles on comedies like The Mindy Project and The Office, as well as her super-smart writing. And if there's one thing that Mindy Lahiri and Kelly Kapoor, Kaling's characters on The Mindy Project and The Office, respectively, have in common, it's that they both appreciated a good looking man. That's why Mindy Kaling's response to Idris Elba being named "Sexiest Man Alive" is so perfect — it proves she knew this day was coming all along.
In case you missed the news in the midst of all of the news regarding the midterm elections and, you know, everything else that's going on in your life, People crowned actor Idris Elba its 2018 "Sexiest Man Alive" in early November. And while non-viewers might not know this, The Office fans will certainly remember that Idris Elba guest-starred on the show, which means he and Kaling actually know one another. Upon hearing that Elba had won the honor this year, Kaling took to Instagram to point out that her character, Kelly Kapoor, always knew that this would happen one day.
Kaling posted a clip from the series, during which Kelly is so enamored by Elba's character, Charles, that she tried to spend as much time as possible in the office's conference room with him. "Kelly Kapoor was clearly way ahead of the curve. #SexiestManAlive," Kaling captioned the post, in which Kelly tries flirt with Charles and kick another coworker out of the room. She also added #TheOffice and tagged both Elba and co-star Angela Kinsey, whose character (also named Angela) was similarly attracted to Charles. Can you blame them, though?
Kinsey responded by reposting the clip to her own Instagram account, captioning it:
"😂 @mindykaling this made my day... thx for posting! And congrats @idriselba on being @people #sexiestmanalive 😘 Kelly and Angela knew what was up! #theoffice
This isn't the first time Kaling has talked about or to Elba on social media, nor is it the first time she's posted a throwback from The Office in order to sum up her sentiments. In order to celebrate his most recent birthday in early September, Kaling tweeted a clip of Kelly Kapoor fawning over Charles (do you see a theme here?). "Happy Birthday, @IdrisElba. Remember that time when you took over for Michael Scott and I went into his office for no reason to talk to you. Good times," she tweeted along with the clip.
And if an old tweet is to be trusted, Kaling also wants Elba to be named the next James Bond as much as seemingly everyone else does. Agent 007 is notoriously dashing, after all.
Not only that, but back in 2014, Kaling told SiriusXM's The Morning Mashup about how much she loves Elba. ""I love Idris Elba so much, and he was on The Office… He's super funny… and of course, gorgeous," she said. So it's likely safe to say that Kaling can identify with Kelly at least a little bit when it comes to how much she loved Charles, or should I say, Elba.
Suffice it to say, Kelly Kapoor would've been feeling pretty smug if she knew that Charles was one day going to be named People's Sexiest Man Alive (she knew it, guys). But since Kelly herself couldn't brag about how she knew this was coming, Kaling went ahead and pointed out Kelly Kapoor's long-time appreciation for her. What a pal.