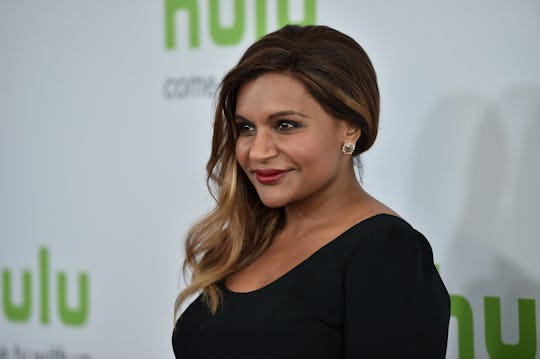 Alberto E. Rodriguez/Getty Images Entertainment/Getty Images
Mindy Kaling's Time's Up Instagram About Her Black Nursing Bra Is Something All Moms Are Going To Love
While a majority of celebrities are out in full force for award show season, one new mom is staying in, while also speaking out. Though Mindy Kaling couldn't attend the Golden Globes this year, she shared an incredible photo to Instagram to stand in solidarity with all the actors and actresses wearing black as part of the "Time's Up" initiative. Mindy Kaling's "Time's Up" Instagram about her nursing bra is something all moms are going to love. And that is not an exaggeration.
In case you missed it, the Golden Globes were on Sunday night, and most of Hollywood was out in full force to celebrate great movies, shows, and creativity all around. But while the glitz and the glam of the red carpet was obviously dazzling, the most incredible part of it all was the sea of black dresses, tuxedos, and accessories on the television screen. As part of the newly launched Time's Up initiative, all of those in Hollywood who want to show their support wore all black to the show.
After the accusations against Harvey Weinstein, Kevin Spacey, and so many more, a group of men and women decided that enough was enough, and that time's up. So, with that, Time's Up was born, and more than 300 women in Hollywood have banded together to raise money for a legal defense fund for any women who have been the victims of sexual harassment or assault in the workplace.
But Kaling, who gave birth to her first child, daughter Katherine Swati Kaling, on Dec. 15, couldn't make it. Nevertheless, she persisted, and explained how she was showing her support from home, in a nursing bra.
Kaling shared a photo featuring the Time's Up logo, words explaining why she wears black: "For equity and parity across all industries. For safety among every worker in every occupation. For inclusion of all women and marginalized people." And while that post by itself would be enough to make women everywhere clap and say "yes!" her caption is also totally on point.
"Live from my home, #timesup," Kaling wrote, continuing, "My black nursing bra is on display!" She also included the strong arm emoji as well as six black heart emojis. Kaling has never been shy about her political views or about how what she has going on isn't as glamorous as many might think, but her latest Instagram is something all moms can relate to.
Seriously, for all you moms out there, how many times have you stayed in, nursing your baby, while all your friends were out having a grand old time? Well, I've got some good news for you. You are not alone. Kaling is right there with you, having a relaxing Sunday night in with her precious little Katherine. And while it's easy to maybe get some FOMO staying in, Kaling's post proves that she's just as happy at home, and that she can still spread awareness for the powerful movement.
Not everyone can go out there and be activists 24/7. People have kids and jobs and pets and social lives and there are times when it's impossible to be out there spreading the word. And that's OK.
From starring in and being a writer and director on the hit sitcom, The Office, to creating and starring in her own show, The Mindy Project, Kaling has never been one to shy away from success. Nor has she been one to shy away from speaking her mind. In an interview with Refinery29, Kaling explained the importance of female representation:
Here's my feeling: For everyone, men and women, it's important to be a feminist. It's important to have female characters. It's wonderful for women to mentor other women, but it's just as important for women to mentor men and vice-versa.
Clearly, Kaling is a proud voice for women everywhere, even if that means staying home and nursing her baby. There's no one right way to be a feminist — something Kaling is an excellent example of.
Check out Romper's new video series, Romper's Doula Diaries:
Watch full episodes of Romper's Doula Diaries on Facebook Watch.