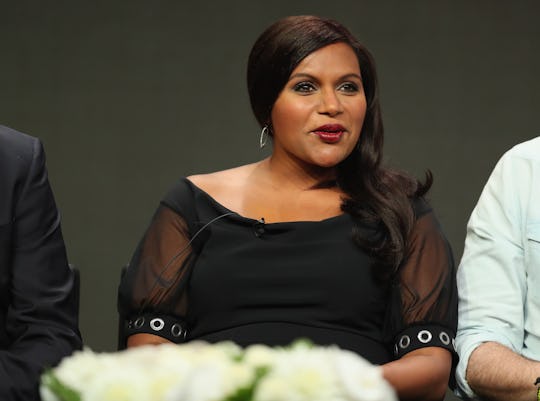 Joe Scarnici/Getty Images Entertainment/Getty Images
Mindy Kaling's Tweets That Show She's Super Cool
Mindy Kaling fans were seriously excited when it was first reported that the hilarious author and actress was expecting her first child. Kaling has always been a super relatable and cool woman, as made evident in her two books and on her social media. While there is still a lot of secrecy surrounding Kaling's pregnancy, there is no hiding in Kaling's personality. Fans can already tell by Mindy Kaling's tweets that show she is even cooler than the characters she plays and is one of the most relatable people alive.
Fans first became familiar with Kaling after playing Kelly Kapoor on The Office, and later starring as the title character, Mindy Lahiri, in her own TV show, The Mindy Project. Kaling's characters are all super relatable — they're not perfect, they have their flaws, and they are much like Kaling herself. But Kaling has warned fans against comparing her to the characters that she plays. Kaling told host Ellen Degeneres during an appearance on The Ellen Show in 2015, according to The Hollywood Reporter:
I am dating, but one of the challenges I have noticed is that I'm not very much like my character, who is very wild, and I think that when I go on dates, theres this expectation that I'm going to have 11 martinis and pass out and spend the night really soon. And I think people get a little disappointed.
But they shouldn't be disappointed that Kaling isn't like her wild and crazy character that she plays on The Mindy Project. In fact, they should be impressed that she's even cooler and funnier than the characters she plays — at least, that is what her Twitter shows. Here is what you can deduce all about Kaling, just from her tweets:
She's Super Supportive
From supporting her friends to her favorite TV shows, Kaling's twitter shows that she's a firm supporter of the things she loves and believes in. By lifting her friends up, Kaling's personality glows. Shine theory, anyone? Seriously, can she be any nicer?
She's An Expert Baker
Kaling knows that the best gift is one that is made with love — and tastes just as good. Never underestimate the power of a baked good, or the girl who makes those baked goods, for that matter.
She Isn't Afraid To Be Honest
Even when she is reminding everyone to wear deodorant, Kaling still manages to sound like the nicest person everywhere (no really, her honesty is totally appreciated).
She Has The Best Taste In Music
The true sign of any cool person? Their amazing taste in music. From tweeting out Katy Perry lyrics — let's be real, "Friday Night (T.G.I.F.)" was such a jam, to tweeting out her essential pool party playlist (complete with the best song from 2006, "Promiscuous" by Nelly Furtado) there is no denying that Kaling's taste in music is pretty dang grat.
She Loves Sports
During the NBA Finals in June, Kaling could not stop tweeting during the final games — and who could blame her? Kaling's tweets from the games show she's a woman with many interests (who also knows how to make the most amazing looking nachos I've ever seen).
She Gets Excited About TV Shows, Just Like The Rest Of Us
We've all been sucked into a binge watch, and have gotten upset when the episodes of a TV show don't align to our own personal schedule. Seriously, why doesn't Netflix coordinate with your own Google Calendar (or a long weekend) to release new episodes? Kaling knows all about this.
She Gets Excited Over Meeting Celebrities, Too
Although she is surrounded by super famous co-stars and celebrities every day, even Kaling freaks out about meeting celebrities. I mean, anyone would freak out over meeting Solange.
Kaling's tweets show that she is super relatable and even cooler than the people she plays on TV.