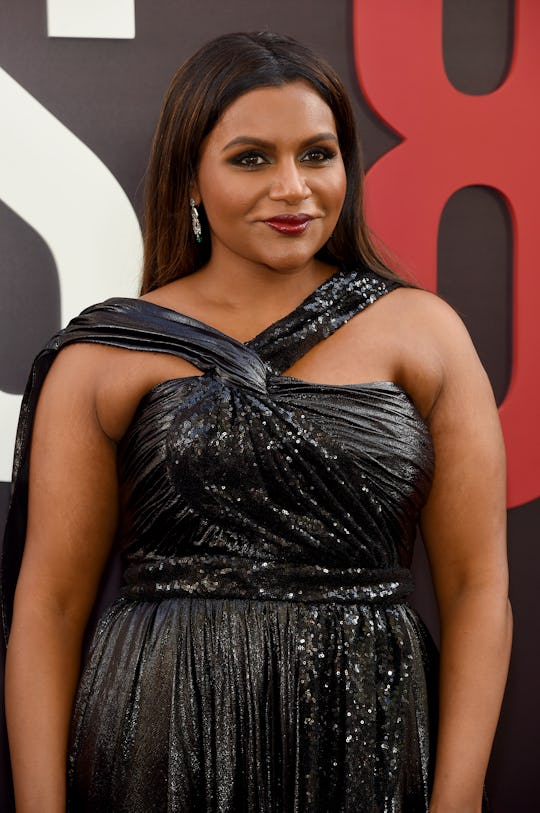 Jamie McCarthy/Getty Images Entertainment/Getty Images
Moms, Mindy Kaling Has Some Sage Advice On What Song *Not* To Listen To During Your Workouts
Mindy Kaling is one of those celeb moms who feels like she could your best friend — even though you'll probably never meet her in person — because she's just so gosh darn funny and relatable. And this certainly hasn't changed since the actress became a mother. Even though fans still haven't seen a photo of her baby girl (and they likely won't anytime soon, as Kaling is determined to protect her privacy), the new mom has shared plenty of parenting moments that have parents going, "Same, girl." Most recently, Mindy Kaling's "workout tip" as a new mom hits the nail on the head when it comes to getting emotional about this little life you brought into the world.
On Wednesday, Kaling shared via her Instagram Story with some words of wisdom when it comes to choosing a workout playlist as a new mom. "So my workout tip for the day is don't listen to Rod Stewart's 'Forever Young' when you're trying to work out and you have a baby daughter," she says to the camera during her first video clip. "You will straight-up start to cry."
The very next clip reveals the precise lyrics that caused the new mom to lose it. "OK, this is the part that gets me. It's like, really cry-y right here," Kaling says. Viewers can then hear some admittedly sappy lyrics: "But whatever road you choose, I'm right behind you, win or lose." *Sniff*
In the third clip of her Instagram Story, Kaling is playing "Da Ya Think I'm Sexy?" also by Rod Stewart. "OK. I can work out to this," she declares, while grooving along to the beat. LOL.
But seriously, though — I'm feeling Kaling so hard right now. Ever since I became a mom, it's like I'm walking through life with a slightly different lens. Movies and songs that didn't affect me pre-kid now give me all the feels. (Don't even get me started on movie scenes of childbirth; I sob every time.) Because now I'm thinking about song lyrics/storylines and their meaning in relation to my own kid and my role as a mother — and sometimes, I simply cannot handle. The emotional struggle is real, folks.
As People reported, Kaling welcomed her first child — a daughter she named Katherine Swati Kaling , "Kit" for short — on Dec. 15. And this isn't the first time Kaling has opened up about motherhood. The new mom told TODAY's Hoda Kotb in April that during the first few weeks with her newborn, there was "0 feedback except for crying for the longest time," as E! News reported. "Then you start wondering, 'Does she care about me? Know about me besides that I'm a food source for her?"
I think we've all been there before. Those early days with a newborn can be so difficult — and the "rewards" (aside from those warm snuggles) just aren't there yet. It's around-the-clock care and dedication with no appreciation whatsoever. But eventually, your little own starts smiling and interacting — and that's when parents are all like, "Yeah, this is pretty much the best thing."
In June, Kaling delivered a commencement speech to the 2018 graduating class at Dartmouth, as ELLE reported. During her quirky message, the actress/writer bulked at the idea that life events should be check off in a specific order — and touched upon the fact that she's a single mom. She said:
I just want to tell you guys, don't be scared if you don't do things in the right order, or if you don't do some things at all. I didn't think I'd have a child before I got married, but hey, it turned out that way, and I wouldn't change a thing. I didn't think I'd have dessert before breakfast today, but hey, it turned out that way and I wouldn't change a thing.
Mindy Kaling's baby girl isn't even 8 months old at this point, and yet the actress is already doling out some pretty spot-on advice, in my opinion. I can't wait to "walk along" with her as baby Katherine grows and develops a personality all her own. And I have a feeling that Kaling's thoughts on toddlerhood are going to be pretty epic.
Keep those mom tips coming, mama!