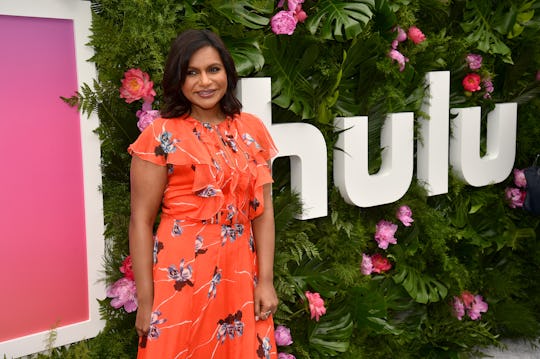 Bryan Bedder/Getty Images Entertainment/Getty Images
These Mindy Lahiri Quotes About Pregnancy Are Super Relevant Now
Fans of The Mindy Project are beyond ecstatic that Mindy Kaling is reportedly pregnant with her first child. Not only because it's an exciting milestone in the actress' personal life, but also because fans feel they've already been through this exciting journey with her on her hit Hulu series. And when you think about all of the hilarious and inspiring Mindy Lahiri quotes about pregnancy and childbirth on the show, Monday's news now seems especially perfect.
Spoiler alert: Like her character on The Mindy Project — an OB-GYN who hilariously tries to balance her personal, romantic, and professional life in New York City — Kaling's pregnancy was reportedly "an unexpected surprise," according to E! News. (Romper has reached out to Kaling's rep for comment on the pregnancy report and is awaiting a response.) And since she's played the part of an expert on all things pregnancy and an expectant mother, she has five years of on-screen wisdom under her belt.
Aside from this goldmine of scripted knowledge, one can only hope that she'll think about some of the hilarious things her character said in the coming months when she's thrown for a loop. Whatever the situation may be — morning sickness in the office, unhealthy pregnancy cravings, growing out of her everyday clothes, or unexpectedly giving birth on the subway — Dr. Mindy Lahiri has got it covered.
And now, some of the best Mindy Lahiri quotes about being pregnant, giving birth, and raising children that every mom can relate to, but especially Kaling:
Pregnancy Cravings
Mindy Lahiri loves food. And in one episode of The Mindy Project, her character struggles with eating healthy for the sake of her little one and giving in to her strong pregnancy cravings.
"May this lunch be the beginning of a lifetime of healthy eating," she says before nosediving into a large sheet cake. Follow her lead, Kaling. Everyone deserves cake.
On Being Sexy
Once she starts showing more obviously and her bump doesn't fit into her old clothes anymore, Mindy does necessarily feel like her best self — even if her partner thinks she's "glowing."
"This isn't a glow! This is sweat from exertion from trying to pull these jeans over my fat ass!" she says to Danny, the father of her baby in the show, after he tries to convince her she looks radiant. (OK, but please, Mindy K., remember that you really are glowing, alright?)
When Childbirth Got Real
In the moments leading to her giving birth, Mindy Lahiri says she wants to be totally knocked out for the whole thing. However, she's forced to abandon her birth plan after her water breaks in the middle of a subway car.
"I need drugs," she exclaims in pain. It's a hilarious example of how pregnancy doesn't always follow a perfect playbook and a reminder to Kaling that, yeah, it's not a walk in the park, but with a little thing called an epidural, you'll get through birth just fine, if that's the route you choose.
When Someone Tried To Shame Her Breastfeeding In Public
Touching on an ongoing issue in real life, Mindy Lahiri also faced the stigma countless moms experience when trying to feed their baby.
"No man tells me what to do with my body, only women's magazines can do that!" the new mom says after a fellow passenger tells her to "put them away" (referring to her breasts).
Even fictitious moms have to deal with this struggle. At least we know that, if it happens to Kaling, she'll likely handle it like a pro (and with an excellent joke, no less).
When She Considered Being A Stay-At-Home Mom
After Mindy gives birth to her son in the show, she struggles to be the perfect stay-at-home mom. Although she called it "the greatest scam on earth," she's quickly shown how challenging motherhood is — no matter if you're at home or at work. At least Kaling knows how hard it is being a working mom or SAHM now — less annoying "life lessons" to learn later.
Now that Kaling is pregnant in real life, fans are feeling like things have come full circle. One can only hope that she'll share plenty of stories and funny one-liners about this exciting and life-changing time in her life to rival Dr. Lahiri's.