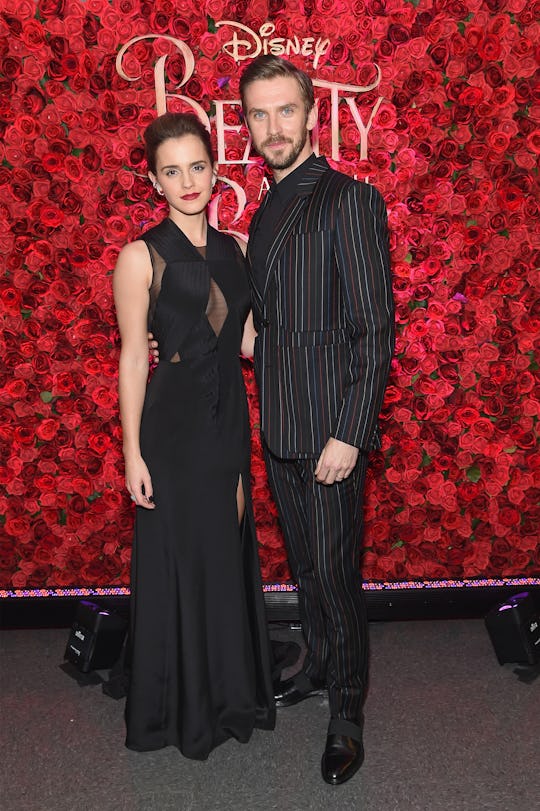 Jamie McCarthy/Getty Images Entertainment/Getty Images
Kids Dressed As Belle & Beast Score The Best Interview Ever
The 2017 Beauty and the Beast live action film provides families with the best of both worlds — it reconnects parents with the 1991 animated classic they grew up watching and introduces their children to the film at the same time. But the remastered tale-as-old-as-time, which has been in theaters for a couple weeks now, already has a major fan following, especially from the younger crowd. Kids (much like their parents when they were younger) can't help but be connected to the story — and that connection is exactly why this mini Belle and Beast interview with Emma Watson and Dan Stevens, who play Belle and Beast in the film, is adorable and almost as good as the film itself.
Miniature Belle and Beast took full advantage of their opportunity to interview the stars of the film — and in turn, dressed up like them — which they pulled off incredibly well. But these young interviewers did not seem phased by the celebrity actors who played their favorite characters. Instead, mini Belle and mini Beast took the time during the interview to ask some hard-hitting questions, and proved that, if their career as Belle and Beast impersonators doesn't take off, then they certainly could have futures as TV journalists.
Watson's answer to little Belle's question about playing Belle is especially inspiring and relevant to young kids everywhere, and sends an important message to never give up on your dreams:
Oh it was my dream come true. [Belle] was one of my absolute favorites, and I watched the film a million times, over and over and over again as a child. So to get to wear the dress and sing the songs and be part of it was just amazing.
Belle is a pretty great role model and icon for young girls; In fact, according to Time, Watson previously noted that she looked up to the animated character as a child herself.
Inspirational messages aside, Beauty and the Beast is proving that it has some serious staying power; The record breaking box office numbers its pulled off so far don't lie. For the second week in a row, Beauty and the Beast has been sitting at the top of the box office, and according to Forbes, in the past two weeks, it has grossed more than any superhero movie ever made.
While mini Belle and mini Beast haven't necessarily brought in similar box office numbers with their must-see interview, it's still one to put on your watchlist — if only because watching two kids' dreams come true might be almost as good as the film itself.