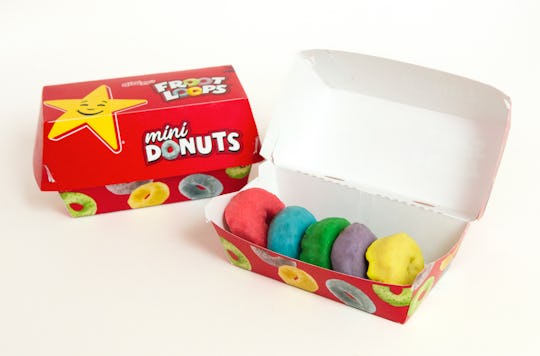 Courtesy Of Carl's Jr.
If You Love Cereal & Donuts, Time To Make A Pitstop For These Froot Loop Donuts
Breakfast food is one of the best things in the world. In fact, the only way you can improve the best meal of the day is by adding more breakfast food to it. With this in mind, the Froot Loops themed donuts available at Carl's Jr. are basically perfect. It's the joy of both cereal and donuts combined into a treat you can enjoy any time of day.
Two big brands, Carl's Jr. and Froot Loops, have teamed up to create this colorful and creative food offering. As of Wednesday, August 29, the Froot Loops mini donuts are available at Carl's Jr. and Hardee's locations across the nation. Whether you enjoy them as a breakfast, snack, or dessert, these donuts offer a unique take on some familiar flavors. Because they taste exactly like the cereal kids everywhere grew up with, these donuts are a colorful trip down nostalgia lane.
And these aren't simply donuts topped with Froot Loops, although that would probably be delicious. No, these donuts are a hybrid of both foods. They're like a small donut and a giant Froot Loop at the same time. Basically, it's a totally new treat made with deliciously familiar flavors.
As you might expect, the multicolored, trendy treat is pretty much made for social media hype. There are already some posts about the collab floating around, but there's also an official social media campaign as well. Celebrities such as '90s heartthrob Mario Lopez, as well as The Bachelor couple Catherine and Sean Lowe, will start posting their #NotMilk Froot Loops Mini Donut frosting mustaches on Instagram and Twitter. (As of now, posts about almond milk and other nondairy options dominate the tag.) It's a play on the fact that milk is not required to enjoy these Froot Loop snacks.
As far as comfort food trends are concerned, breakfast cereal seems to be in the spotlight now. For instance, a walk-in cereal cafe called Kellogg's NYC operates in Manhattan, offering an all-day cereal bar. Celebrities such as Lauren Conrad have created some of the menu choices. Bacon and unicorn-themed cereals are available, and of course there's free wi-fi. Same-day delivery options are available. In other words, cold cereal is pretty hot right now, as far as foodie trends are concerned.
And Froot Loops in particular are beloved. Since the 1960s, generations of kids have grown up eating the cereal hawked by the adorable Toucan Sam. It's a childhood favorite for so many people. "Once a year in my family, we had a junk food day. I could eat Cocoa Crisps and Fruit Loops," said Nick Kroll, as noted in Medium. Chances are, people the world over have similar memories about this multicolored breakfast food.
So if you're feeling a little nostalgic for your childhood breakfasts, or you just want a quick and colorful snack, the Froot Loops Mini Donuts at Carl's Jr. and Hardee's are probably worth a shot. It's a simple way to satisfy your sweet tooth and indulge in a new hybrid food at the same time.