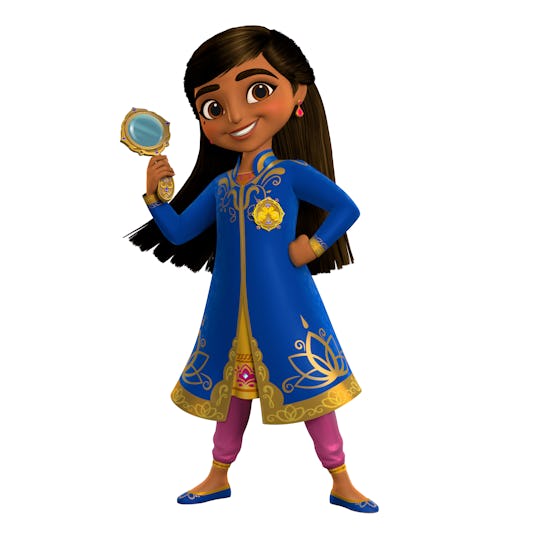 Disney
Disney Junior's Upcoming Series 'Mira, Royal Detective' Is A Huge Win For Diversity
There's a brand new series coming to a small screen near you, and parents will celebrate the fact that it's a total score for the network in terms of diversity and inclusivity. On Thursday, Disney announced that Mira, Royal Detective is coming to Disney Junior in 2020. The series will follow Mira, a commoner who becomes a royal detective after she solves an incredible mystery, through her adventures helping the citizens of country.
According to a press release issued by the network, the show will be set in the "magical," but fictional Indian-inspired land of Jalpur. The show will be featuring original songs, dancing and lessons that involve teaching kids the customs and culture of Indian life.
In the same statement, Joe D'Ambrosia, the senior vice president of Original Programming at Disney Junior said: "We are eager to introduce kids and their families to the rich, diverse cultures and customs of India through Mira, a young girl who looks at things with her own unique lens to gain different perspectives and help others in her community. We hope that she will encourage our audience to actively engage with the inspiring world around them and appreciate the little details that make life extraordinary."
The show is reportedly in pre-production.
The leading role of Mira will be voiced by Leela Ladnier, a newcomer who is best yet known for singing YouTube covers of popular songs.
Undeniably talented, Deadline reported that the young teen will be joined by Freida Pinto as Queen Shanti; Hannah Simone as a young commoner named Pinky; Jameela Jamil as Mira's Auntie Pushpa; Kal Penn and Utkarsh Ambudkar as mongooses Mikku and Chikku, respectively; Aasif Mandvi as Mira's father, Sahil; Sarita Choudhury as Prince Neel's Great-Aunt Rupa; Aparna Nancherla as Mira's cousin Meena; Kamran Lucas as Prince Neel; Karan Brar as Prince Veer; Karan Soni as twins Ranjeet and Manjeet; Sarayu Blue as the palace tailor; Parvesh Cheena and Sonal Shah as bandits, Manish and Poonam, respectively; and Roshni Edwards as Mira's cousin Priya.
In the same press release, the network said that the "animated mystery adventure series" is aimed for preschoolers.
Shortly after the world learned of Mira — Royal Detective, people quickly took to Twitter to share their excitement for its upcoming arrival in 2020.
"@DisneyJunior will launch a new show in 2020 called Mira, Royal Detective. It'll feature a full voice cast of South Asians ... This is how you make representation a reality. I'm crying," one person tweeted.
It's clear that Disney is more interested in inclusiveness than ever, and that's a win not only for entertainment, but also for our kids. What they grow up watching will have an undeniable impact on not only their own self-image, but how they see and interact with others who may not be exactly like them. All in all, the progress is a win/win.
This first-time mom wants to have a home birth, but is she ready? Watch how a doula supports a military mom who's determined to have a home birth in Episode One of Romper's Doula Diaries, Season Two, below. Visit Bustle Digital Group's YouTube page for the next three episodes, launching every Monday starting November 26.