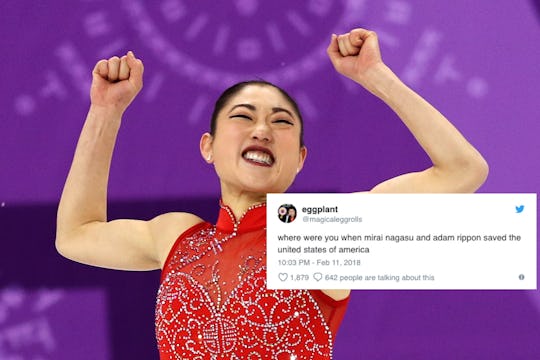 Maddie Meyer/Getty Images Sport/Getty Images
Mirai Nagasu Is The First Woman To Land A Triple Axel At The Olympics, & Twitter Lost It
Now that the 2018 PyeongChang Olympics are officially in full swing, fans are watching along eagerly as the athletes representing their countries attempt to bring home a medal. On Monday, Team USA did just that, picking up a bronze medal in the figure skating team event, thanks in large part to a flawless routine by 24-year-old California native Mirai Nagasu. Not only did her skate earn her an impressive personal best score of 137.53 points — the second-best of the ladies free skate, according to CNN — Mirai Nagasu landed a triple axel at the Olympics, and it has left Olympic viewers on social media majorly impressed.
The praise is definitely warranted: the move itself is extremely difficult, involving a forward takeoff and three-and-a-half rotations in the air, according to People, and it's a challenge so great that none of the other female skaters even attempted it in their own Olympic routines. But not only did Nagasu totally nail it, she also became the first female American figure skater (and only the third female skater in general) to ever land it successfully at the Olympics. In other words, yeah, it's a really big deal. And Nagasu totally deserves all the love being sent her way right now.
As impressive as Nagasu's record-breaking routine was, it was definitely a testament to her hard work and preparation all season long. After completing her skate, Nagasu said she "knew in [her] heart that this day would come," according to the Team USA website, and called the moment "history, or herstory, whatever way you want to put it."
Making her performance even more noteworthy though is the fact that, despite her obviously-impressive skills, Nagasu actually failed to make the cut for the Olympic team in Sochi in 2014. At her first Olympics games in Vancouver in 2010, Nagasu narrowly missed out on a bronze medal, coming in fourth in the women's event, and in 2014, she lost out on a Team USA spot to figure skater Ashley Wagner, who had a more consistent season. And while her return to the the Olympics this year was obviously a major triumph, it was also a record in itself: according to Team USA, by returning to the Olympics in 2018, Nagasu became "the first [American] woman to return to the Games after missing an edition."
Like Nagasu, her teammate, close friend, and Olympic Village roommate Adam Rippon also missed out on the opportunity to compete in Sochi, according to CNN, and on Monday, he told reporters that he and Nagasu were so disappointed at the time that they ended up drowning their sorrows together in fast food. Rippon said, "We were eating In-N-Out because we were so upset that we weren't at the Olympic games."
Now, they've not only made their Olympic dreams come true, they've done so with some truly epic performances: on Sunday, Rippon also earned a season-best score of 177.41 points during the men's free skate, according to Team USA, and he and Nagasu earned bronze medals together. Rippon told reporters,
I just remember four years ago Mirai and I were in a dark place. We were so upset and sad and, honestly, we were like depressed that we weren't at [the Olympics] ... I told her as we were going through that, I said, 'Mirai, I'm so lucky to have you by my side. We're going to get through this together.' And I kept telling her. I [still] say it every five minutes. We room together at the village.
As for his thoughts on Nagasu's record-breaking skate? Rippon was overjoyed. According to People, Rippon told NBC,
I love my girl and so proud of her tonight. I've been waiting [to compete at the Olympics] my whole life, then to see my friend go out there and skate like that is even better.
In pulling off her impressive triple axel, Nagasu joins a select group of female figure skaters who have managed to also pull off the difficult jump in competition. Only two other American female figure skaters have successfully performed a triple axel in competition — Tonya Harding in 1991, and Kimmie Meissner in 2005, according to People — and the only women who have managed to do it at the Olympics are Japanese skaters Midori Ito and Mao Asada. And now? Nagasu can joyfully add her name to both lists.
It's been a seriously big day for Nagasu as well as for her entire team — earning a medal at the 2018 PyeongChang Olympics is the ultimate reward for years of hard work and dedication. And while Nagasu hasn't revealed exactly how she intends on celebrating, it's probably safe to assume there won't be any consolation In-N-Out Burger involved this time around.
Check out Romper's new video series, Romper's Doula Diaries:
Watch full episodes of Romper's Doula Diaries on Facebook Watch.