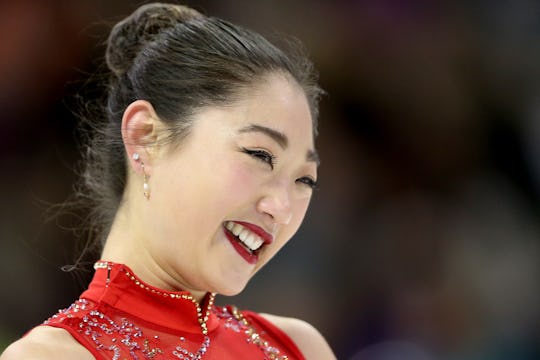 Matthew Stockman/Getty Images Sport/Getty Images
Mirai Nagasu's Instagram Proves This Figure Skater Plays As Hard As She Works
Going into the 2018 Winter Olympics, I like to get to know the athletes a little bit, but most particularly the figure skaters. I mean, has there ever been a more dramatic and visually entertaining sport? No. No, there has not. So I'm interested in learning about Mirai Nagasu, the skater going into her second Olympics this year. And Mirai Nagasu's Instagram proves the this figure skater plays as hard as she works. Well, maybe almost as hard as she works.
Nagasu is already getting a lot of buzz because she will probably be attempting the triple axel in her program. The triple axel is said to be the most difficult jump in figure skating and is rarely attempted in competition. The only other American woman to successfully make the jump in competition was Tonya Harding. If she nails it at the Olympics, Nagasu will be the first American woman to do so. In an interview with People, Nagasu said, "All the other ladies are not yet able to do [the triple axel]. It's kind of like a board game. So, that's my 'king.' So I want to use it as many times as I can." But Nagasu's life isn't all ice rinks and impossible jumps.
When not posting pictures of herself at the skating rink, Nagasu is posting pictures of her adorable dog, who she clearly adores. In an interview with Teen Vogue, Nagasu said, "When I'm at home, I'm a real big cuddler, so I sleep with my dog in my arms." But because she can't bring him traveling with her she has so sublimate with a teddy bear while she's in PyeongChang. Girl, get him registered as an emotional support dog!
Nagasu has plenty of hobbies, apparently, like taking amateur painting classes. She captioned this shot, "finally out of the ice rink." It's important to take some time for fun stuff as well as hard work and learning how to do a triple axel (still trying to work out how that's physically possible).
Sometimes Nagasu even lounges. She posted this cute picture of herself napping on a boat with her trusty dog as proof with the sarcastic caption, "life of the party." It's cute though.
In her bio on the official Mirai Nagasu website, Nagasu says, "My goal is to accept any challenge that life throws me and to become a better person from each experience. Sounds super cheesy, but it's my honest opinion." She also said that her favorite thing about skating is that it "combines athleticism with grace, so it gives skaters a chance to relay stories or messages to the audience while demanding physical strength." One thing that's immediately notable about Nagasu's videos is definitely her grace.
But her Instagram page isn't the only place that Nagasu shares what she's been up to. She also shared on her Twitter a video of herself successfully completing the triple axel during training. She says she does about 10 of the jumps per day in practice, and considers herself about 80 percent successful in landing them.
So clearly Nagasu is capable of the doing the famous trick, but will she be up to performing it at the Olympics? We will just have to wait and see. Since being left off the Olympic team in 2014 in favor of Ashley Wagner (though she finished third place in the championship while Wagner came in fourth), Nagasu has burst forward stronger and better than ever. I think all the other skaters should be shaking in their skates right now.
Check out Romper's new video series, Romper's Doula Diaries:
Watch full episodes of Romper's Doula Diaries on Facebook Watch.