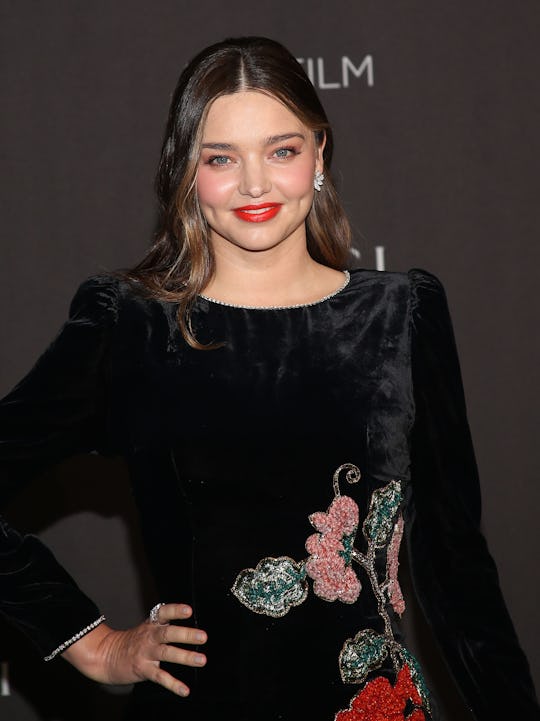 Jesse Grant/Getty Images Entertainment/Getty Images
Miranda Kerr Opens Up About Having A "Mum Bod" After Giving Birth Again
She's a wife, mom, model, and Instagram influencer, but now, she's also my absolute hero. In a new interview Miranda Kerr opened up about her post-baby "mum bod," and moms all over owe some props to someone this famous for being honest about the post-delivery experience. So thank you, my new best friend.
In a teaser for Marie Claire Australia's January issue (which will be on newsstands Down Under on Thursday), Kerr disclosed that six months after delivering her second baby, Hart, she knows she doesn't look quite like she used to, and actually, that's more than OK with her.
"It's really important as women that we're gentle with ourselves and don't feel like we have to snap back into shape after a baby," explained Kerr, who, as Marie Claire noted in its exclusive interview with her, is married to Snapchat CEO Evan Spiegel. "It's OK, I've got a mum-bod and it's fine!"
To be sure, the onetime Victoria's Secret model is a health aficionado with her own line of organics, according to the magazine. So I doubt anyone will need to worry about her level of health or fitness anytime soon (not that it's anyone else's business anyway).
Still, just Kerr acknowledging the fact that most people don't usually walk out of the hospital in their old wardrobe of skinny jeans is a leap forward in our looks-obsessed, now-obsessed culture.
"I don't mind. It's all part of it. I took nine months — well, 10 months — to grow a beautiful child and it might take 10 months to feel good in a swimsuit again," Kerr added. "Or longer. Or never!"
Like most moms, Kerr has way too much on her plate right now to be obsessed with a silly scale: Besides juggling her older son, Flynn, 7, with ex Orlando Bloom, as People noted, the model has gone full-scale-ahead with a rapidly-growing beauty line, Kora Organics, which is now available at major retailers such as Sephora.
Kerr, who gave birth to baby Hart in May after having married Spiegel at the pair's Los Angeles home in a small backyard ceremony in 2017, according to Us Weekly, joked with Jimmy Kimmel earlier this year that her husband was not allowed to document her labor on his social-media site, the magazine added — although his wife admitted to using Snapchat to keep in touch with family in her native Australia.
If this down-to-earth sounding mom isn't stressing about her post-baby figure, it's clearly because it sounds like she has her priorities straight. According to Australia's Channel Nine website, the model also told Marie Claire that big brother Flynn has needed some extra emotional support.
"About a month after Hart was born, Flynn said to me, 'Mum, I'm a little frustrated....I know I was the one who wanted a baby brother… But I'm feeling a little frustrated that I don't get as much time with you as I used to,'" she revealed, according to the news site. "I was like, 'I know, but honey, you know it's not going to be like this forever.'"
However, Kerr went on to clarify that Flynn, whom People added that she co-parents with Bloom smoothly, has since adjusted to the new family structure, and that she might want more kids, Channel Nine added.
Kerr might have made her living off her looks for many years, but she's clearly way more than skin-deep as a wife, mom, and businesswoman.
This first-time mom wants to have a home birth, but is she ready? Watch how a doula supports a military mom who's determined to have a home birth in Episode One of Romper's Doula Diaries, Season Two, below. Visit Bustle Digital Group's YouTube page for the next three episodes, launching every Monday starting November 26.