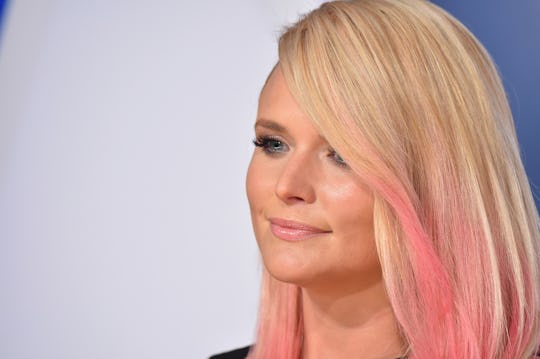 Michael Loccisano/Getty Images
Miranda Lambert Is Keeping Her Cool, Even If The Rest Of The World Is Freaking Out About Blake Shelton And Gwen Stefani
Blake Shelton and Gwen Stefani might be a real, honest-to-goodness, confirming-the-rumours, stepping-out-in-public couple now, but one person who doesn't seem to care? Shelton's ex-wife. After her big win at the 2015 CMA Awards Wednesday night, Miranda Lambert took to Facebook to share a message of love and gratitude to fans (along with a completely adorbs selfie with one of her horses). Despite the night being the first public, post-divorce appearance for Shelton and Lambert, Lambert had a great night, winning the award for Female Vocalist of the Year, and totally nailing it on stage with a performance of her latest single, "Bathroom Sink." Despite the big accomplishment, Lambert kept her acceptance speech brief (and totally humble). She wrote:
Man, I really appreciate it. I needed a bright spot this year, so thank you. I love country music fans, and I'm just gonna keep it short, but Justin Timberlake and Chris Stapleton , thank you very much. I'm gonna go home and practice. Thank y'all very much, I love y'all.
It's been a rough road for Lambert lately, and given the news of Shelton's new relationship, it's no surprise that her reaction to her win was subdued and appreciative. And, judging by her follow-up Facebook message, she definitely appears to be taking the high road.
Even though news of Shelton and Stefani confirming their relationship (and being photographed in public holding hands) has naturally received lots of attention, Lambert has definitely been feeling the love on social media, with fans sharing the support for the country star.
Anyone who's ever had to watch an ex move on can probably relate to at least a little bit of what Lambert's going through (although none of us have had to do it with the eyes of the world on us to see how we'll react). And, let's be honest, it's not easy to stay as classy about it as she has. But when it comes to breakups, it's pretty cool to know that Miranda Lambert is totally one of us.
Image: Michael Loccisano/Getty Images