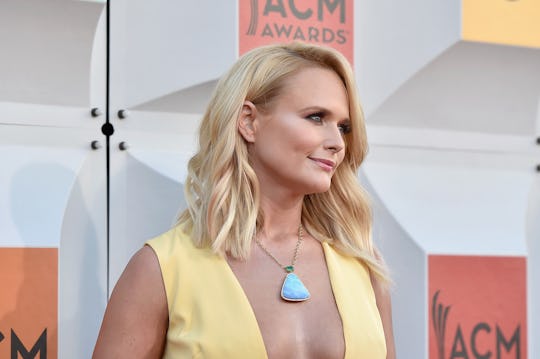 David Becker/Getty Images Entertainment/Getty Images
Miranda Lambert's ACM Awards Shoutout To Women In Country Music Was Full Of Positivity
Sunday night's ACM Awards was full of great moments, including Miranda Lambert ACM Awards shoutout to women in country music. The singer took home the award for Female Vocalist of the Year, beating out fellow nominees Kelsea Ballerini, Jana Kramer, Kacey Musgraves, and Carrie Underwood, and as she accepted her award, Lambert had some incredibly important things to stay about the status of women in country music.
Lambert took the stage to accept the award following fellow nominee Carrie Underwood's performance of "Church Bells." While Lambert's acceptance speech was brief, her message to women in country music was powerful in just the few words she shared:
I love y'all! I just wanna say I love seeing Carrie — you just killed it. I got to sing with Carrie on Friday and she is literally the perfect singer and such an inspiration to me and I love you, girl. And I love seein' tonight a bunch of new country girls up here shinin' and singin' their great song that they wrote themselves. I'm really excited for women in country music and I'm glad to be here as one of them. I love you all fans, thank you so much.
Both the awards audience and fans watching live were impressed with Lambert's selflessness as the 32-year-old country singer acknowledged the accomplishments of her fellow female music artists without really tooting her own horn in the process. If anything, Lambert was exceptionally gracious and humble as she accepted her award.
Clearly, fans felt the same:
In the music industry, it can as though it's standard practice for women to cut their fellow female musicians down. Case in point: the social media feud between Katy Perry and Taylor Swift last year. So it's a refreshing, empowering change of pace to see a musical star like Lambert stand up and thank the women who are making music alongside her in the industry. It's nice to see women raise each other up instead of cutting each other down, especially in a forum as big as the ACM Awards.
It was also especially refreshing to see Lambert stride right past some seriously awkward moments throughout the night with ex-husband Blake Sheldon, however indirect between them. Lambert and Sheldon's very public divorce last year, along with Sheldon's new girlfriend, Gwen Stefani, has cast a very gossipy shadow over Lambert in recent months. At tonight's show Lambert and new boyfriend Anderson East walked down the ACM Awards red carpet together before the awards began.
After winning her award for Female Vocalist of the Year, Lambert performed a cover of ZZ Top's "Tush" — and it was pretty amazing, too.