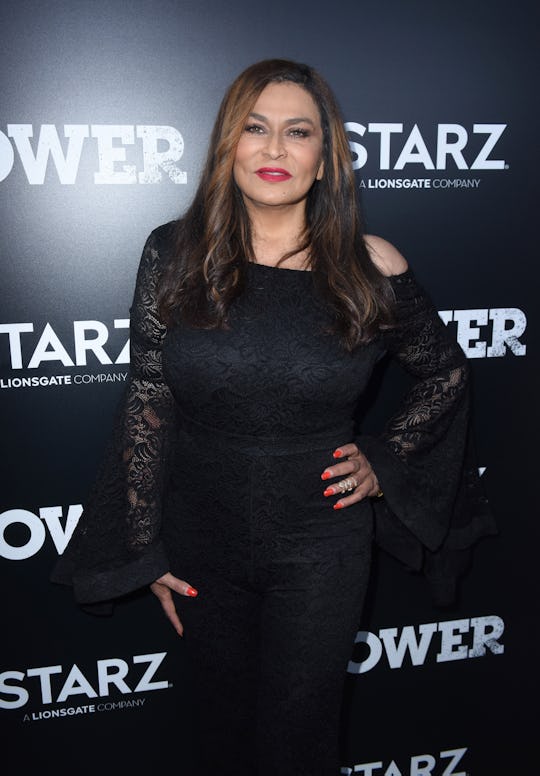 Vivien Killilea/Getty Images Entertainment/Getty Images
Miss Tina May Have Revealed The Meaning Behind Rumi's Name
The birth of Beyoncé and JAY-Z's twins has been shrouded in mystery, as befits the offspring of the king and queen. The world got its first look at twins Rumi and Sir Carter last week, and now Beyoncé's mother, Miss Tina Lawson, may have revealed the meaning behind one of Beyoncé's twins' names. If you're a poetry fan, though, the cryptic Tina Lawson Instagram about Rumi probably seemed to confirm what you already suspected.
On Sunday, Lawson posted an Instagram photo of some beautiful poetry, writing in the caption, "This is poetry by the 13th century poet 'Rumi' it's not only beautiful but logical." The selected verses included, "Love is the bridge between you and everything," and one that Lawson said was her favorite, reading, "Your task is not to seek for love, but merely to seek and find all the barriers within yourself that you have built against it."
Many Beyoncé fans had already been speculating that the new parents may have named their female twin after the 13th century Persian poet, whose full name was Jalal ad-din Rumi. Rumi was a refugee and a follower of Sufism, a mystical Muslim movement, and his meditations on love and spirituality have given deep meaning and comfort to many people over the centuries. He has seen a spike in popularity on social media in recent years, although that's probably nothing compared to the attention that his work will be getting now.
Beyoncé fans had previously pointed out that it would make sense for her to name her baby after Rumi, because Beyoncé is a huge poetry fan. Lawson's Instagram seemed to provide further evidence that the name wasn't just a random coincidence, but an intentional homage.
Members of the Beyhive will have to keep waiting for more clues about the meaning behind Sir Carter's name, but perhaps regularly checking Lawson's Instagram would be a good start for eager fans. After all, Lawson also confirmed little Sir's name (not Sir Carter Carter, but Sir Carter) and that the tight-lipped Beyoncé and JAY-Z had given birth to a boy and a girl, when she reposted Beyoncé's epic photo with the month-old twins, writing in the caption,
So Happy my baby shared a photo of her babies with the world ❤️❤️❤️proud grandma hello Sir Carter and Rumi Carter❤️🙏🏾❤️ 7/13/2017 Boy and girl what a blessing ❤️
Even though there's still a lot of mystery around the twins, one thing's for sure: They've been welcomed into this world with a whole lot of love.