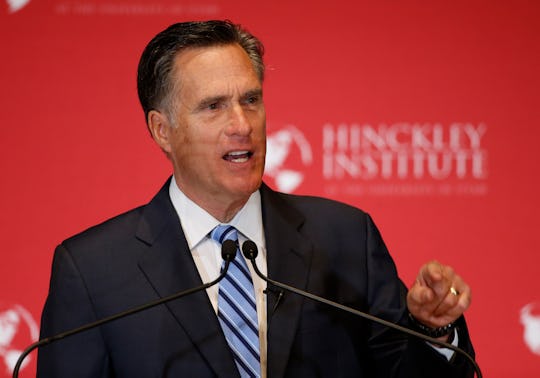 George Frey/Getty Images News/Getty Images
Mitt Romney Is Voting For Ted Cruz In An Attempt To Stop 'Trumpism'
Mitt Romney has stated his distaste for Donald Trump and wants everyone to know that. On Friday, Romney took to his Facebook page to make a call to arms to his supporters following Trump's recent victories in the primary election. Because of this, Mitt Romney is voting for Ted Cruz in an attempt to stop, what he calls, "Trumpism."
Romney, who served as the 2012 Republican Party nominee in the 2012 presidential election has experience when it comes to these kinds of politics. He knows how the votes work because he has seen it all — losing the race to President Obama winning a second-term.
In a post he wrote about his endorsement of Texas Sen. Ted Cruz just in time for Utah's upcoming primary election this week.
The former Governor of Utah wrote to his 10,696,131 Facebook fans encouraging them to vote for Ted Cruz not because of his views, but because Romney wants an open convention.
"I will vote for Senator Cruz and I encourage others to do so as well, so that we can have an open convention and nominate a Republican."
Donald Trump currently has won 694 delegates to Cruz's 407 delegates and former Ohio Gov. John Kasich's 194 delegates. Trump needs 1,237 delegates to win the nomination, but Romney hopes his efforts will stop that from happening.
Trumpism, term coined about Trump's Republicanism, and according to Romney is associated with "racism, misogyny, bigotry, xenophobia, vulgarity and threats and violence." It is an ideology that has upset many people in this election including Romney himself.
Romney believes that if from now on, Republicans vote for Ted Cruz, there will not be enough votes for Trump to win the nomination and the Republicans will go to an open convention.
Thursday, House Speaker and former Romney running mate, Paul Ryan, told Fox News that its looking "more likely" that the Republican party will face an open convention.
In these crucial months leading up to the convention in July, Trump will have to secure as many delegates as possible. Even if he has the majority, if he does not meet the 1,237 delegates to win, he will not be the party's nominee.
In his Facebook post, Romney did not say anything about Cruz's politics or points he agrees with, only mentioning that they need to stop Trump. Romney, who has campaigned with Kasich in the past, wrote in the post that voting for Kasich, who has the least number of delegates in the election, would not prevail Trumpism.
Trump, of course, has already reacted to the endorsement, posting on his Twitter exactly what he thinks about it.
We will have to wait and see if this last minute call to arms is a strategy that works. However, we can only hope that this puts a block into Trump's seemingly direct path to victory.