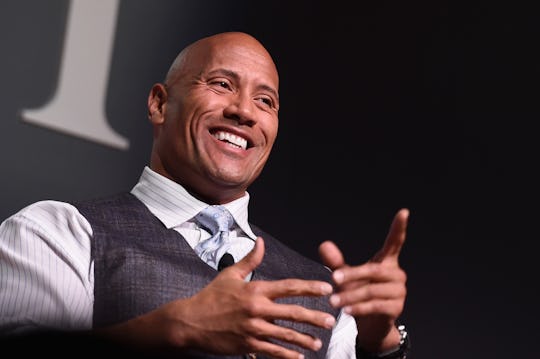 'Moana' Star Dwayne Johnson Names Daughter Jasmine, Keeping Things In The Disney Family
Perhaps we weren't the only people inspired by Disney's new progressive princess, Moana. Dwayne Johnson, the star of the film — which will be released this November — revealed the name of his newborn baby girl, and it's sure to excite any fan of the Mouse House. But what did The Rock name his baby? In an emotional Facebook post posted Sunday night, Johnson told fans he and girlfriend Lauren Hashian decided on Jasmine for her name. You know, just like the other Disney princess, from 1992's Aladdin.
And Johnson is indeed inspired by Jasmine, who was born Dec. 16. Starting his Facebook announcement with the exclamation that "Christmas came early!" the actor and former wrestling star talked about a feeling familiar to many parents with newborns — the feeling that you've suddenly become a different, better person. As he wrote:
Kinda crazy but in this cool and powerful skin to skin bonding moment with my newborn baby Jasmine, I had just one wish I asked the universe... Give me the strength to be a better man today than I was yesterday. If I can accomplish that, then I'd have a good shot at being a great father. To all you young men out there who will be fathers one day, the goal of "being better" will never steer you wrong. Trust me I've been down this road.
The post was coupled with a shot that was just as touching:
But Johnson didn't stop there — the actor continued on about the importance of being available for your partner during the birth of your child.
I was right there during labor, helping her breathe, every highly intense contraction, every second of pain, right there watching the actual birth, cutting the cord and wiping the tears ... As men, it's a miracle we should witness because it'll give you a whole new respect for the strength and beauty of a woman.
This is hardly the first time Johnson has been passionate about fatherhood — on an episode of Oprah's Master Class in November, the actor talked about his relationship with his 14-year-old daughter, Simone, with ex-wife Dany Garcia.
I realized being a father is the greatest job I have ever had and the greatest job I will ever have ... I always wanted to be a great dad. I always wanted to give Simone things that I felt I never got.
And he certainly feels the same way about Jasmine. Here's to father and daughters exploring a whole new world together.
Image: Ilya S. Savenok/Getty; Dwayne Johnson/Facebook