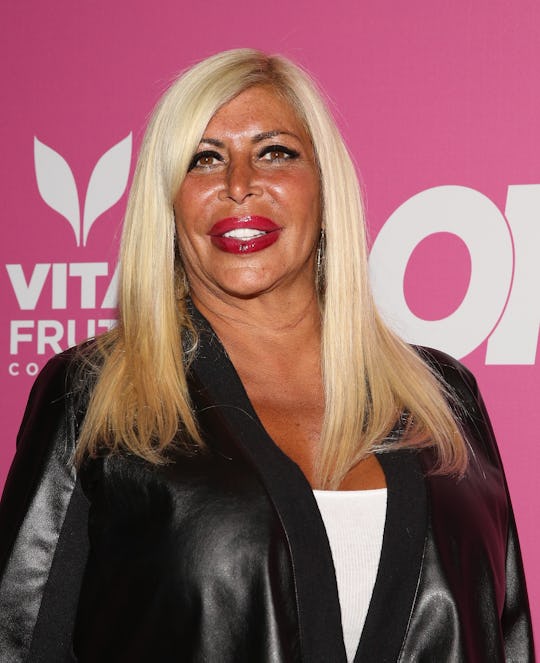 Robin Marchant/Getty Images Entertainment/Getty Images
'Mob Wives' Angela 'Big Ang' Raiola Dies After Yearlong Cancer Fight, Family Confirms
According to a statement released on her Twitter account, Mob Wives star Angela Raiola died early Thursday morning following a long struggle with lung and brain cancer. Raiola was a favorite on VH1 reality show Mob Wives before landing her own spinoff show called Big Ang. Raiola, known by fans as Big Ang, was 55 years old.
"It is with sad regret that we inform you that at 3:01 a.m. Angela Raiola peacefully ended her battle with cancer, and was called home," the statement read. "She was surrounded by nothing but love from her immediate family, and closest friends. YOU, (Her fans) were some of the most special people in her world, and she loved you immensely." According to the official statement, the star's Twitter account will be left open for fans "as a celebration of who she was and will always be."
Publicist Vinnie Medugno posted the official statement on Raiola's Twitter account following false reports Wednesday that the reality star had died. An unknown source told to Entertainment Tonight that Raiola — who had been undergoing treatment for advanced stage cancer since January — died from the illness on Wednesday. Shortly after that report hit the internet, a representative came forward to dismiss the claim, saying in a statement that "Angela is still in the hospital surrounded by her loved ones, and is fighting."
According to Entertainment Tonight, the reality star's death comes after she had faced several serious health struggles. In April 2015, Raiola was hospitalized after doctors discovered a large tumor in her throat. After undergoing at least two surgeries for throat cancer last year, Raiola was told by doctors in October that she was cancer free, ET reported. Late last year, doctors discovered more tumors in Raiola's brain and right lung that proved less responsive to therapy. To help cover the cost of immunotherapy and alternative pain management, Raiola's sister, Janine Detore, set up a GoFundMe page. As of Thursday, Raiola's friends and fans had donated more than $45,000 to help with her cancer treatments.
It's no surprise that Raiola would receive such an outpouring of fan support. The former bar owner's larger-than-life personality made Raiola a huge favorite for Mob Wives fans, earning her two spinoff shows and an appearance in Scary Movie 5.
The fast diagnosis and roller coaster of treatments had been a struggle, the reality star shared in a recent appearance on The Dr. Oz Show. In the segment, Raiola talked about her battle with cancer and her decision to split with husband Neil Murphy following her diagnosis, according to People. "First I thought I was cancer-free. I was gonna have a big celebration … and then a month later I was stage four," she said. "I was completely devastated. I couldn't hear what they were saying. … I feel like I went deaf."
Raiola is survived by her two children, Raquel and Anthony Donfrio, six grandchildren, a huge extended family, and her sister, Janine Detore. As of Thursday morning, the family had not yet announced plans for Raiola's funeral or memorial services.