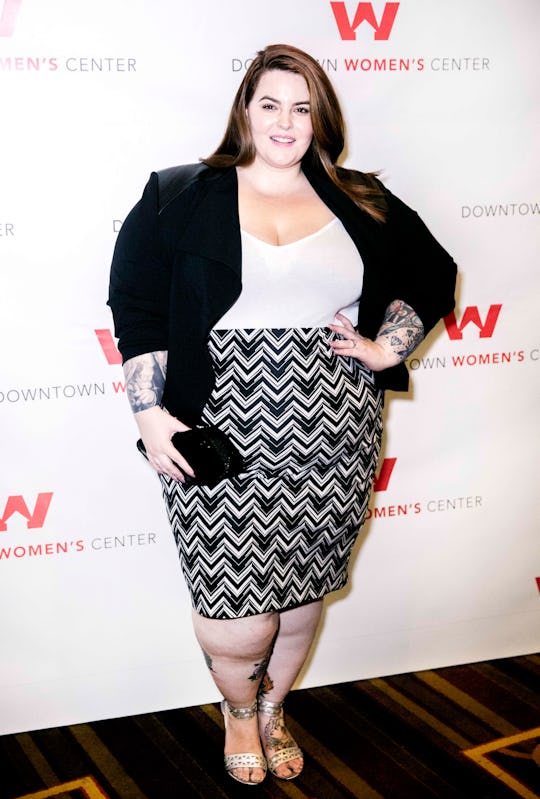 Mark Davis/Getty Images Entertainment/Getty Images
Model Tess Holliday Shared A Pregnancy Photo & A Brilliant Message About Loving The Body You're In
Plus size model Tess Holliday has once again shut down any would-be body shamers, this time by simply sharing a photo of her six-month pregnant belly. In a beautiful, emotional post on her official Facebook page on Thursday, Holliday shared her latest pregnancy photo along with a few thoughts on the amazing process it represents.
Holliday has emerged as a vocal advocate for diversity and body positivity in the fashion industry. The gloriously tattooed, size-22 model and fashion designer is also the founder of the multi-platform #EffYourBeautyStandards movement, a hashtag created around a mission of encouraging women to challenge mainstream standards of beauty. And, in taking on the controversial issue, Holliday was recognized by TIME magazine as one of the most influential voices on the Internet — and has become an absolute pro at shutting down trolls and body shamers. In a post for People magazine early last year, Holliday explained why women of all sizes should be saying #EffYourBeautyStandards:
[My supporters] know, like I do, that there is no one way to be a woman, or to be beautiful. We all deserve a place. I believe this with all my heart. While modeling is my career, and my family is vitally important to me, I have this passion inside of me to help other women feel confident and comfortable in their bodies, regardless of their size or what society tells them is beautiful.
And now that Holliday is expecting her second child, she has extended her body-positive message to include celebrating the mind-blowing changes that happen to a woman's body during pregnancy. Earlier this week, the outspoken model posted a series of poolside photos on Instagram, showing off her "pregnancy glam" in a vintage wrap and teal, body-baring swimsuit. Just two days later, Holliday posted a profile pic of her pregnant belly along with a moving caption about learning to accept her changing form:
Every time I look at my tummy, I'm reminded at how amazing my body is. Even though I've had a baby before, I didn't love myself entirely.. So now every kick, every pain, is incredible to me. I get constantly shamed & criticized for existing in this body, but the problem isn't my size, it's others inability to comprehend that beauty doesn't come pre packaged in one size. I'm embracing my stomach getting bigger, stretch marks, & loving this little life I'm growing.
Holliday and her husband-to-be, Nick Holliday, should welcome their first child together in June, according to People.
To say that Holliday is breaking barriers is an understatement. But she certainly isn't alone. Recently, quite a few high-profile women have shared their struggles with the massive body changes that come with pregnancy (shout out to Kim Kardashian for sharing the realness of her swollen feet during pregnancy). But, no matter how many women come forward, the message is one that's always needed: all pregnant women — well, all women, period — come in many shapes. And they're all beautiful.