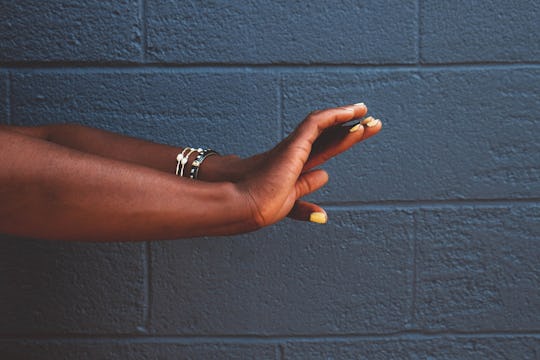 Pixabay
Mom Bunmi Laditan Gets Real About Depression, & Her Words Are Important & Powerful
Bunmi Laditan is the person — and voice — behind The Honest Toddler, the best-selling book, blog, and social media empire. But Laditan is more than a writer, a mother, and a digital personality, Laditan is a woman: a woman struggling with mental illness. However, instead of being silent or ashamed of her disease, Laditan is speaking out. Earlier this week, Latidan got real about her anxiety and depression on Facebook, and her message was powerful.
Laditan began her post by addressing a common misconception, that there is a "face" of mental illness:
It's funny, when you look at this photo you can only see me and not my anxiety or depression. I look normal, don't I? [But I'm not.]
Laditan continued:
You can't tell that almost 100% of the time my brain is telling me that something is terribly wrong. You can't tell that my biggest challenge every day is getting out of bed...[y]ou can't tell that changing my clothes is a struggle...[y]ou can't tell that my mind sometimes get so overwhelmed with conflicting and alarmist data that I feel like sitting in my bedroom closet, my knees tucked into my chest like when I was a child. You can't tell that I'm constantly tortured by graphic thoughts of terrible things happening to my children.
And I know these feelings — God, do I know these feelings — because I, too, have an invisible monster lurking beneath my bed and inside my head. I, too, struggle with depression, and, while I rarely envision terrible things happening to my daughter, I am tortured by graphic images of my own demise.
I often fantasize about my own death.
However, much like Laditan, I keep fighting because I have to. Because life with a mental illness can be a fight, but it is an important fight — and it is a fight those struggling with mental illness can win if they keep going. Laditan said:
Every single day I get up and whether or not anyone knows it, I fight. Sometimes I get tired. Sometimes I cry. Sometimes I drop the ball (in big ways). But I keep getting up. I keep fighting to live this life that I was given.
Make no mistake, for most depression and anxiety are lifelong diagnoses; however, they aren't terminal diagnoses. Being diagnosed with a mental illness isn't a death sentence. With the proper treatment plan and a combination of therapy, medication(s) and/or alternative treatments, mental illness can be fought just like any other illness.
But, in the words of Laditan, "[d]on't give up, ok? Rest, punch a pillow, or cancel plans when you need to, but don't give up on yourself. You're worth fighting for."