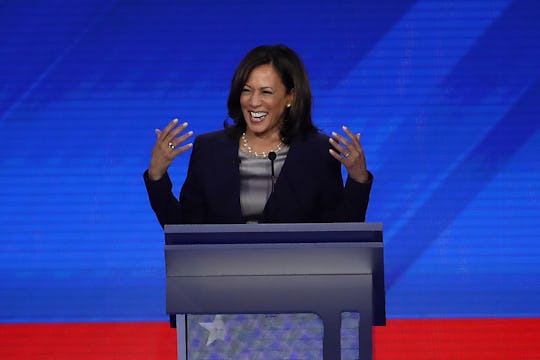 Win McNamee/Getty Images News/Getty Images
The Verdict Is In: These Mom & Dad Jokes Won The Latest Democratic Debate
In the aftermath of any political debate, it's fairly common for folks to dissect candidates' answers in an effort to determine the event's "winner." Unsurprisingly, the third 2020 Democratic Party presidential debate, hosted in Houston on Thursday, was no exception. But perhaps the real winner of the latest Democratic debate wasn't one singular person. Perhaps it was candidates' mom and dad jokes that won the Democratic debate last night.
With stricter participation requirements than either of the two previous Democratic debates had, Thursday's debate saw only 10 of the party's 2020 candidates take the stage to discuss issues like education, health care, and climate change. Present on stage Thursday were former Vice President Joe Biden, entrepreneur Andrew Yang, former Housing and Urban Development Secretary Julián Castro, former Rep. Beto O'Rourke, South Bend Major Pete Buttigieg, and Sens. Elizabeth Warren, Kamala Harris, Bernie Sanders, Cory Booker, and Amy Klobuchar.
And while there were a number of notable moments in Thursday's debate, from Buttigieg sharing his coming out story to Sanders' defense of democratic socialism to Klobuchar and Warren sparring over Medicaid-For-All, it was candidates' attempts at humor that made perhaps the biggest impression on viewers — for better or worse.
Here are some of the best, and worst, mom and dad jokes uttered during Thursday's third 2020 Democratic primary debate: