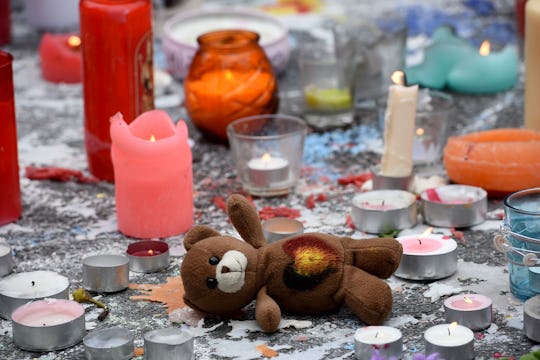 PATRIK STOLLARZ/AFP/Getty Images
Mom Drags Son To Safety After Brussels Attack & Proves How Powerful Motherly Love Can Be
There have been many emotional anecdotes hitting the front pages since targeted bombings struck the Zaventem Airport and the Maelbeek metro station in Brussels, Belgium on Tuesday, killing at least 34 and wounding hundreds more. One of those harrowing and heroic tales was recounted this week when a mom who had dragged her son to safety following the explosion at the busy Brussels airport shared the terrifying moment with The New York Times. It's one of those stories that make you realize just how awful and scary Tuesday morning really was, but also that reminds you how powerful the connection between mothers and children can be.
According to The Times, Belinda How was getting ready to check into a flight home to Malaysia when she heard a blast. How then turned to her special needs son and told him, "You have to run." According to her account, How's son responded by telling her that his leg was hurt. How then said that she thought her son was "panicked" and she went for it. "I left my luggage, dragged him, and ran," she told the news outlet. "Before I ran out, there was another bomb." Despite the terror, the two managed to make it out alive.
How's story wasn't the only haunting tale of mothers and children being separated during the attacks. Politico Europe's Giulia Paravicini told a story to CNN this week about a woman bravely searching through the rubble of the airport with her bare hands, looking for a missing child, while holding a baby. An onlooker tried to tell that mother that she was holding her child, thinking she was in shock, but she reportedly kept digging. (Tragically, as it turned out, the mother was looking for her second child, according to Paravicini's report.)
Terrorist attacks seem to hit closer to home when we remember that they affect whole families too. One of the first named victims of Tuesday's attacks, Peruvian Adelma Tapia Ruiz, was also mother of two and was killed when the twin bombs at the airport were detonated. According to The Huffington Post, Ruiz's brother wrote in a Facebook post this week,
It's very complicated to describe this pain that we're feeling at home, but as an older brother I know that I have to do it. ... [What is] incomprehensible is not being able to be close to her. And this tragedy ... touched the doors of my family this morning in the Brussels airport when my sister Adelma Tapia died in the terrorist attack.
Hearing stories of moms like Ruiz, or Belinda How, or even simply noticing an empty stroller amidst the rubble might seem sensational or gruesome. But they are also reminders that the attacks are very, very personal. Perhaps, by hearing about them and honoring their efforts or sacrifice, it will help mothers and women everywhere keep pushing forward to find some sort of peace together.