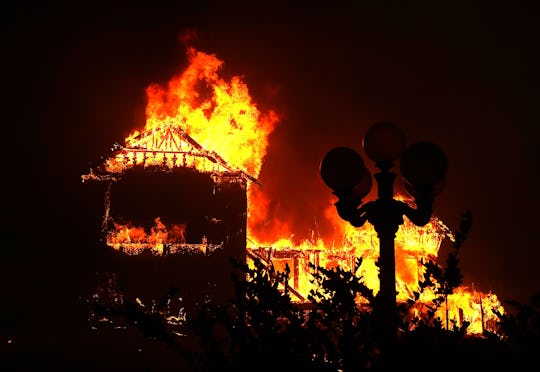 Justin Sullivan/Getty Images News/Getty Images
Newborn's Mom Fleeing Wildfire Made The Most Heartbreaking Request To A Stranger
The deadly California wildfires have put resources, response teams, and much more to the test. But there's one thing that is stronger than even blazing flames: a mother's love for her child. Reports of a mom fleeing the California wildfires with her newborn, asking a stranger to save the baby over herself, show that a mother's love really knows no bounds.
According to HuffPost, Rachelle Saunders, a mother-of-three, was put in an impossible position when she was recovering in Feather River Hospital in Paradise, California. Shortly after delivering her newborn son via C-section, nurses rushed into her hospital room around 7:30 a.m. PST on Nov. 8 to urge her to take her son and flee. The flames of the Camp wildfire were quickly approaching the hospital and it was being evacuated.
But the major surgery that she had just undergone prevented Sanders from fleeing in the traditional sense, restricting her to a wheelchair with her son Lincoln on her lap. Hospital staff loaded patients into their own vehicles to get the out in time, and Sanders was placed with an employee named David — she told CNN that she never caught his last name.
When things went from bad to worse, and the car was surrounded in what CNN described as a "windstorm of fire," Sanders made David promise to take the baby and run if it looked like she was slowing them down.
In an interview with CNN after the harrowing experience, Sanders told reporters that she wasn't sure she was going to make it.
"I wasn't sure any of us were going to make it. It was very, very terrifying." she said. Sanders had good reason to worry about their survival. The San Francisco Chronicle reported that as she and David headed south, fire surrounded them and even melted his sedan's plastic taillights.
When traffic gridlocked, many of the drivers around Sanders abandoned their cars to take off on foot. As the flames bore down on them, she asked David to make her a promise. "If it comes down to it, if you have to run, take the baby," she said to him, according to HuffPost. "Leave me behind."
Thankfully, it didn't come to that.
Sanders, Lincoln, and David all made it out and back to the hospital that they originally fled. Somehow, it was still standing. Sanders later learned that her husband and two other children also made it out of the Camp fire without a scratch. The family home, though, wasn't quite so lucky. Sanders recovered at Enloe Medical Center in Chico, California and her spirits are high. "Never have I had a Thanksgiving come where I have had so little and felt more thankful and blessed," she told CNN.
Unfortunately, many of those affected by the Camp fire weren't so lucky. Wildfire history experts have described it as "the deadliest wildfire in a century," according to TIME. The death toll reached 76 people last week, as NBC News reported, and crews are still searching the area touched by the blaze for human remains.
Butte County Sheriff Kory L. Honea referred to the Camp Fire as "the worst-case scenario," for California fire response, according to The Washington Post. "It's the event that we have feared for a long time." In response to the fires, California Governor Jerry Brown asked President Trump for a "presidential major disaster declaration," according to the Post, and FEMA has provided the state with emergency aid. But the battle against the numerous fires is far from over.
As stories of loss and survival flood out of California following the wildfires, it is tales like Sanders' — tales of love, sacrifice, and courage — that continue to burn like a beacon of hope long after the last flame is extinguished.