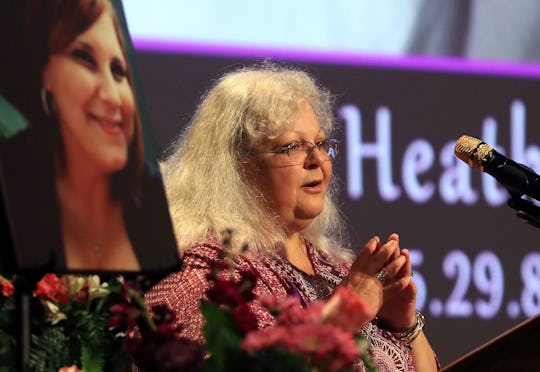 Pool/Getty Images News/Getty Images
Mom Of Charlottesville Victim Heather Heyer Shared A Powerful Message 1 Year After Her Death
One year ago, a group of white supremacists marched in a shocking "Unite the Right" rally in Charlottesville, Virginia. In response to the hateful message of the rally, activists staged a counter protest on Aug. 12, 2017, where 32-year-old Heather Heyer was tragically killed by a car that drove into a crowd of counter protestors. Heyer's mom has been very vocal about her heartbreak over the her daughter's death, and one year later, the mom of Charlottesville victim Heather Heyer has another important message to share — and it's how she wants society to move forward.
Heyer's mother, Susan Bro, opened up about the topic in a recent interview with Democracy Now. When asked what she wants people to remember about her daughter, Bro shared an inspiring message. "What I want you to remember is that everyone needs to stand up against hate," Bro told Democracy Now. "Everyone needs to pick up that baton. If you need information on how to do that, contact me at the Heather Heyer Foundation, and I will help you find ways to do that."
Bro is a co-founder, president, and board chair of the Heather Heyer Foundation, which she established to "carry on the legacy of her daughter," according to the foundation's website.
She also further explained why she personally makes an effort to pick up Heyer's baton. As she told Democracy Now:
You know, I can't be consumed by grief to where I can't function. I have to move forward. So, my life now revolves around not only have I picked up Heather's baton and I'm running with it, but I'm also passing it off to as many people as I possibly can. They tried to silence my daughter, one voice. You don't get to do that. I said at her funeral, you just magnified her, because not only am I going to speak up and speak louder, but I'm going to make sure lots of other people speak up, too.
Bro was recently a guest on Anderson Cooper 360, where she further explained why moving forward is the most important thing. According to CNN, she told Cooper that it is time to "take the focus off Heather, as Heather would want us to do. It's been a year now, and let's focus on why she was there. Let's focus on what she died for."
And in a first-person essay for Cosmopolitan, Bro explained how she was able to work through her grief. She wrote:
Everyone wanted to hear from the mother of the woman who lost her life demonstrating against white supremacists. I could have collapsed, broken by the unwelcome changes to my ordinary life. No one would have expected otherwise. I sobbed quietly all night long, but I also determined in my heart that this would not go away. My daughter's death had to count for something.
She added, according to her essay in Cosmopolitan: "Heather taught me is that all of us should find ways to fight for a more just society and that means we can't assume others will do the talking."
Additionally, in a recent interview with CBS News, Bro suggested that even though her work helps distract her from her grief, the anniversary of her daughter's death has been hitting her hard. "As long as I'm working, I'm not thinking too much or feeling too much," Bro told CBS. "But I have to be honest that the weight of it is getting to me today and tomorrow."
Bro is constantly encouraging people to follow in Heyer's footsteps and stand up against hate through her work with the Heather Heyer Foundation. According to the nonprofit foundation's website, it offers a scholarship program for "individuals passionate about positive social change ... who intend to promote peaceful social change for unity using those skills in their profession."
Heather Heyer's life was tragically cut way too short, and she did not deserve to die. There's no doubt that her mother and many others will continue to honor her legacy by standing up against hate for many years to come.