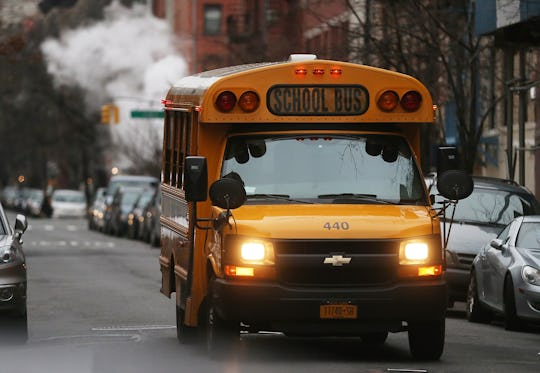 Mario Tama/Getty Images News/Getty Images
This Mom Has A Warning For Parents After Her Daughter Was Left On A School Bus Alone
If you have a school-age child, then you already know how anxiety-inducing at can be to send them to school for the first time. But while those parental fears are (thankfully!) usually unfounded, sometimes there are situations parents need to be aware of. On Twitter Tuesday, a shaken mom warned parents after her daughter was left on a school bus in the heat for three hours, in an entirely preventable incident that never should have occurred. And honestly? As a mom whose own kindergarteners are set to take the school bus for the very first time next week, the post feels like a huge wake-up call.
In a heartbreaking thread, Twitter user Coley wrote, "My daughter's bus driver nearly killed her on the first day of kindergarten," and offered up "a PSA for all parents of young bus riders," in the hopes that it will keep their kids safe. She explained that her 5-year-old daughter — who has a slight physical disability but is "at right age level intellectually" — rode a regular school bus for the first time earlier this week, but instead of getting off at school like she was supposed to, she ended up staying on the bus. Coley said the driver then returned the the depot, but that he "DID NOT check whatsoever when he pulled in," and left, and since her daughter "knows to stay in her seat" while on the bus, she did.
Hours later, Coley says she received a call from the school indicating that her daughter hadn't arrived, and then she learned from the superintendent of the bus depot that her daughter had indeed been left alone on a locked bus, in the 90-degree heat, for over three hours. It turned out that Coley's daughter simply didn't know when to get off the bus, and though bus drivers are supposed to do a seat check before getting off the bus, he clearly didn't. She wrote,
My child should. Not be alive right now. Kids die after an hour in a hot car. My child survived 3 and only got a stomachache. My child should be dead. If I hadn't of packed her 2 drinks in her lunch she WOULD HAVE DIED. Today we hold her close.
In a statement to local news station 5 KSDK, the Jersey Community Unit School District No. 100 confirmed the incident, and said,
The school district immediately took appropriate action that day and has reminded all school bus drivers of the Regional Office of Education annual training which addresses the requirement for all drivers to complete a walk-through after every route.
In addition to highlighting the importance of checking the seats though, Coley wrote that she also reminded her daughter that "if, by some miniscule chance you get left on the bus, to honk that horn until someone comes." And honestly, it's a message that all parents of bus-riding kids might want to repeat to their own children. Because while it's true that the likelihood of being left on a hot school bus is small, Coley's story proves how easily it can happen. And while her daughter was thankfully OK (if not totally freaked out, and in need of some serious cuddle time with mom), it could have easily ended very differently.
Although many parents do emphasize school bus safety to their children, so often it revolves around things like crossing the road, and getting on and off the bus properly. That is obviously important (and the American School Bus Council has some helpful tips for parents and kids alike in that regard), but it's easy to forget that young kids especially might need explicit instructions about how to recognize when to get off the bus, what to do if they miss their stops, and what they should do if they get left on a bus alone.
After all, even without the extremely-scary heat concerns, no child deserves to go through the experience of being forgotten on the school bus, simply because they didn't know how to ask for help. And hopefully, Coley's daughter's experience will at least prevent other children from ever having to go through anything similar.