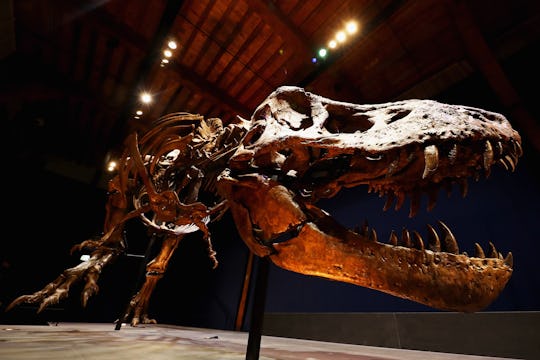 Dean Mouhtaropoulos/Getty Images Entertainment/Getty Images
Hero Mom Wears T-Rex Costume To Walk Kids To School
Walking your children to school is one of the more menial tasks that moms partake in. It's not worse than say, having to vacuum the floors every three days (or every day, depending on how messy your kids are), but it definitely isn't the same as drinking cocktails on a beach. Doing things to break up the monotony of tasks like taking your kids to school — like treating yourself to a nice coffee — certainly helps. But nothing might be as good as what one mom came up with. Yes, that's right: This mom wore a T-Rex costume to walk her kids to school and she might actually be my new hero.
Seriously, she could not be any cooler. T-Rex mom, or Leslie Eggenberger as she is known to everyone else, is just a regular Florida mom to two sons. But in the car line recently, she was the mom who picked up her sons from school wearing a T-Rex costume too. Eggenberger said she wore the costume because she wants to teach her sons an important lesson about individuality that they, and anyone else for that matter, can take to heart.
"I want them to be uniquely themselves and never question what they do because of what people think," Eggenberger told Miami News 7. "I try to do things like that all the time with them, but I guess this one is more extreme and it got a lot of attention."
The video of Eggenberger wearing the costume is hilarious. Her waddle as she walks alongside her son is perfect, and those little T-Rex arms of hers would make anyone break into hysterics.
But unlike your father singing along to Britney Spears in the carpool line, or your mother wearing her very uncool fanny pack in front of your friends, Eggenberger does not actually embarrass her children or their friends by wearing her costume. Instead, her sons and their friends actually find her costume to be pretty on point. "It is really cool that she is doing it and I think it's great that she's doing it," Leslie's son Jacob told Miami News 7.
While Eggenberger's confidence is definitely something to be admired, you too can make your child's day (or completely embarrass them) in a T-Rex costume of your own. Target sells a similar dinosaur costume online for a little over $50. Or, if you're more of a fan of Amazon Prime and need the costume delivered within days to your doorstep, you can order the same costume on Amazon.
It's worth purchasing one of these costumes — if not to make your children laugh, to break up the monotony of life and make menial tasks a lot more exciting. And if nothing else, like Eggenberger, you'll be teaching your kids never to be afraid of who they are and to have a sense of humor as well.