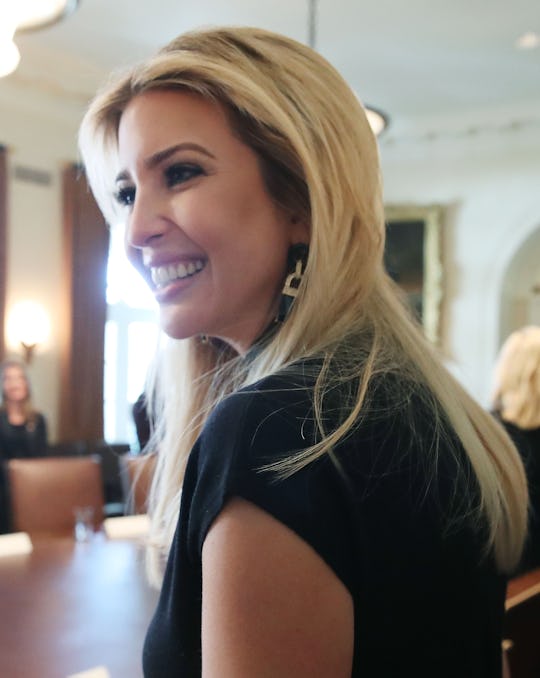 Mark Wilson/Getty Images News/Getty Images
Mom Writes To Ivanka After Jewish Daycare Threats
The uptick in threats and hate crimes against the Jewish population is scary for many reasons. But the Trump Administration has been fairly quiet about actually doing something to stop these hate crimes — even though President Donald Trump's daughter Ivanka Trump is Jewish herself. So one mom is took the issue into her own hands in an effort to encourage Ivanka to do something about these crimes. A mom wrote to Ivanka Trump after a Jewish daycare near her received a bomb threat (though its worth noting that daycares and elementary schools around the country have received similar threats).
In response to frightening threats to Jewish community centers and schools, Ivanka advocated for "religious tolerance" from all Americans. But those threats hit too close to home for one mom. Lindsay Hadley, an art director in Indianapolis, knew all too well what it's like to worry about her child being safe at school. That's because her son Milo was reportedly abused at his daycare, to the point that doctors feared his legs were broken, according to Working Mother.com. Now at Hebrew Congregation's Early Childhood Center, Hadley worries for her son's safety all over again after news of the threats against Jewish daycares spread.
She shared her story in a sweet letter, which was addressed to "Theodore's mom," the name of Ivanka's youngest son, and starts the letter off by saying that she has "thoroughly enjoyed looking at photos of Baby Theodore in the White House." The letter, which was published in full on Facebook and on Working Mom, is a strong appeal to encourage spreading love rather than hate:
I'm sure as a working mother you can appreciate knowing your child is in the best of care during the day. Milo loves going to school, and I know they love him. I knew he was safe until yesterday morning when the Jewish Community Center was evacuated because of a bomb threat. Milo's school was rattled. Once again, Milo's dad and I are worried about the safety of our little boy. Who would want to hurt a child? Any child?
From one mother to another, I'm begging you to use your influence within the administration to tone down the rhetoric that would inspire someone to hurt children. Please.
Hadley tells Romper exclusively about how others have reacted to the letter.
I've really been blown away by the outpouring of love and support from friends, family and strangers so far. It definitely feels like a time to be good to each other.
When asked in an interview with Town & Country if she would reprimand or challenge her father, Ivanka answered "In a political capacity, I don't...But I would challenge him as a child. That's what children do...People ask me, do I ever disagree with my father? It would be a little strange if I didn't."
Well now is the time for Ivanka to take a stance against policies and talk from the Trump Administration that has cast groups as enemies because of their race, religion, or immigration status. Hate crimes against Jews in particular have spiked 94 percent in New York City, Think Progress reported.
But Hadley tells Romper that she simply speaking out about why it isn't OK to attack Jewish people (especially when that should be common sense) isn't enough:
I think it takes more than condemnation. I think this is a moment where actions speak louder than words. The only way back from the ledge is to really commit and believe that people, regardless of race, gender, gender identity, etc are equal. Divisive rhetoric and hyperbolic speech is what empowers people to do hateful things — even if the president wouldn't do the hateful thing himself.
So what steps does Hadley think Ivanka and the Trump Administration should take to put an end to these hateful acts? "[Trump] needs to immediately condemn each and every act of violence and stop accusing his 'opponents' of carrying out the actions," she says.
Hadley also says that when Trump silenced Jewish reporter Jake Turx at a press conference and called himself the "least anti-Semitic person," he "sends the wrong message to everyone."
Hadley is not the only concerned mother to appeal to Ivanka, either. BuzzFeed reported that a New York mom of a transgender child wrote Ivanka a letter to spread awareness after Trump revoked President Obama's bill allowing transgendered students to use the bathrooms of their gender identities.
Because if anything should be able to can get to this administration, hopefully it's a mother's love.
Correction: A previous version of this story said that Milo's legs were broken from the abuse he allegedly suffered at his daycare. His legs were not actually broken; doctors just feared they were because of the extent of his injuries. Romper regrets the error.