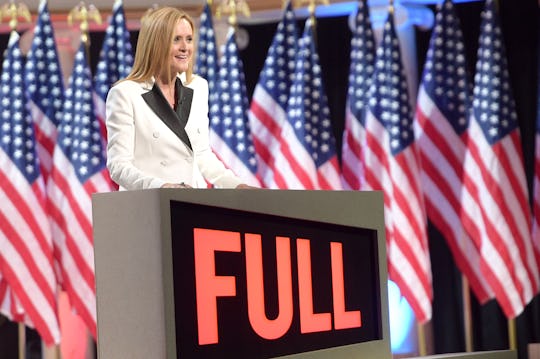 Jason Kempin/Getty Images Entertainment/Getty Images
Best "Not The White House Correspondents' Dinner" Moments
Last night, for the first time in 36 years, the president of the United States was not in attendance at the annual White House Correspondents' Dinner, an event that honors journalism and the press. The festivities were still a hit with those who attended, however, as the tenant of a free press has started to feel like it's coming under more and more of a threat recently, late-night comedian Samantha Bee decided to host her own event in Washington, D.C. that same day, aptly named, "Not the White House Correspondents' Dinner," almost as a giant flashing sign warning that none of this was normal. It was an event to honor true, fact-based reporting. And though the event itself was largely humorous in nature, there were several moments from "Not the White House Correspondents' Dinner" that proved journalism is still so important and relevant, despite what the current administration seems to believe.
However shocking it was that the president wasn't at the actual WHCD, it wasn't too surprising that President Trump chose instead to honor himself at a rally in Pennsylvania, as his attitude toward the media hasn't exactly been friendly. In fact, Trump has previously called the media "the enemy of the American people," and has repeatedly refuted any negative coverage of him as "fake news." However, the goal of the special Full Frontal with Samantha Bee event was to highlight the notion that facts do still matter, and that the First Amendment is actually pretty cool, and important.
Here are three of the best moments of the evening that helped make clear why the free press matters, and should be taken seriously:
When The Full Frontal Correspondents Honored Local Press
Toward the beginning of the show, Bee brought out four of her show's correspondents whose job it is to scour the news each day in order to produce content for Bee's politically-charged comedy. Allana Harkin, Ashley Nicole Black, Amy Hoggart, and Mike Rubens all took to the stage to honor local publications whose hard work often goes unnoticed (while also poking some fun at them of course). These publications, they noted, were on the ground, and delivering news that matters (even if that news might not be seen by everyone) every day.
It was also a great reminder to reporters and writers as well that not everything you do as a journalist will be a huge, breaking story, but it's still important. And for those non-journalists out there? If you're interested in supporting those outlets, simply take a few seconds to subscribe to their paper or digital publication and help keep the truth alive.
You can watch the segment for yourself here:
When "George W. Bush" Dropped Some Hard Truths About The Job Of The Press
The show's highly-anticipated special guest was none other than Will Ferrell, who showed up midway through the event to deliver his famous impersonation of the 43rd president of the United States, George W. Bush. Of course he made some great jokes — including one that was cut from the televised show in which he pointed out that it only took 100 days for the title of "worst President" to be passed on to someone else other than himself — but he also reminded us of what the job of the press really is.
Joking about being asked "gotcha questions," such as "Why are we going to war? Gotcha!" Ferrell-as-Bush made an excellent point that, though the president might not like what's being said about him, he shouldn't make it his job to tear down actual reporters, like Trump and his administration have done. It was the perfect balance of funny and poignant and served as an epic reminder that the press is there to hold the president accountable, whether he likes it or not.
Watch Ferrell's segment below:
When Bee Contemplated What Facts Really Are
When Kellyanne Conway coined the phrase "alternative facts" earlier this year, journalists everywhere collectively cringed. After all, what else is an "alternative fact" if not a lie, or at least a statement not entirely based in truth? This was something Bee also touched on at the event, with a clip featuring philosophers and scientists alike pondering the meaning of facts, and whether alternative facts can exist (spoiler alert: they can't, and they don't).
It was a light-hearted take that made a crucial point: True journalism relies on facts, not "alternative facts" — and whether or not said facts are found to be agreeable by the current administration doesn't really matter. Truths and stories exist, and the job of the press is to report them. As the clip below jokes, "The discovery of alternative facts has upended our understanding of the universe," even causing actual reporters to question themselves to an extreme extent. Watch it here:
Of course, the entire show was worth-watching, but the moments above definitely set the tone for the remainder of the night. While the current administration may be trying to undermine the authority of journalists, journalists continue to do their jobs, and that's what matters.