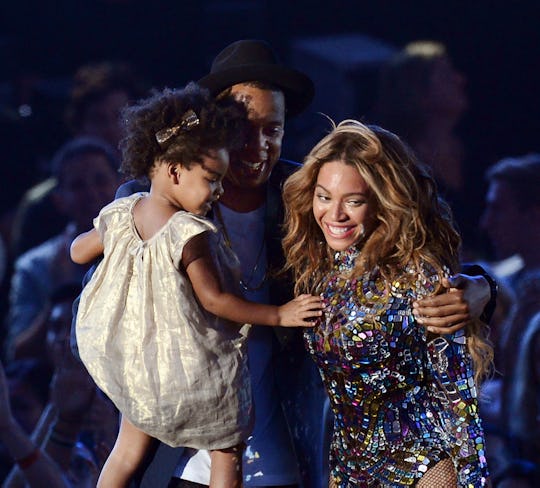 ROBYN BECK/AFP/Getty Images
Moments We Knew That Blue Ivy Was Definitely Beyonce's Daughter
At this point, we all know Beyoncé runs the world. She has millions to her name and hundreds of awards under her crown, but nothing compares to her inseparable bond with her darling daughter Blue Ivy Carter. Mama Bey has shown the world more than a few times that she has a little queen in the making and these moments prove we knew that Blue Ivy was definitely Beyoncé's daughter. The notion of "like mother like daughter" has never been more adorable.
It's not the numerous Grammys she's won or the arenas she's sold out that Beyoncé would say are her greatest accomplishments. In an interview with Garage magazine in March, Beyoncé gushed about her now four-year-old little girl. "Out of everything I've accomplished, my proudest moment, hands-down, was when I gave birth to my daughter, Blue," the global superstar told Garage.
Beyoncé is not only an accomplished artist and businesswoman, but she's also a dedicated mother and it's very clear she loves every moment of motherhood. When it comes to their matching fashion statements, on-point dance routines, or just their adorable bonding moments caught on camera, it's obvious Blue Ivy takes after her mama in more ways than one.
Let's have a look at some of the most precious moments Beyoncé and Blue Ivy proved that their mother-daughter bond is unbreakable.
When Their Outfits Matched Too Perfectly
When Blue Ivy Wanted To Make A Fashion Statement Just Like Her Mom
When They Enjoyed Some Fun In The Sun
When They Stopped To Smell The Flowers Together
When They Were Caught In An Adorable Cuddle Session
When A Photograph Proved Generations Of Greatness
When Blue Ivy Showed The World She Has Moves Just Like Her Mama
When Blue Ivy Commemorated The Release Of Her Mom's Jaw-Dropping Visual Album Lemonade
Lastly, they gave the perfect shoutout to the Beyhive
In April, during a concert on Beyoncé's Formation tour in Miami, Beyoncé shared an anecdote with the crowd about her daughter.
"I was driving here tonight, and my daughter said, 'Mommy, are we going to your work?' And then we were pulling up to this huge stadium," Beyoncé told the audience. "I remember when I was a little girl that this was my dream."
With parents like Beyoncé and Jay Z, little 'JayBay' is certainly on her way to becoming the next queen of whatever path she chooses. Beyoncé is a great example to follow and before we know it Blue Ivy might be running the world herself.