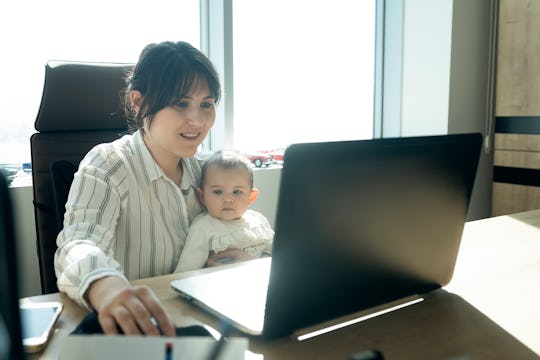 isayildiz/E+/Getty Images
Here's What Employers & Coworkers Are Doing To Help Moms Out During The Pandemic
Right now, we are all struggling with figuring out how to work from home, and those of us who have been deemed essential workers are dealing with an entirely new landscape. It's also a new landscape for bosses and managers, who may not be thinking about how hard it is to be a working mom in a global pandemic. To close that knowledge gap, Romper decided to ask working moms what their bosses and colleagues are doing to help during this difficult time that is actually helping. In partnership with the Clinton Foundation's early learning initiative Too Small to Fail, we surveyed 2000 moms across the country about what their lives have been like during the pandemic, including ways their their managers and coworkers have made them feel supported in this very challenging time for working parents. And you guys, it's a pretty great list.
Overall, moms' assessment of their employers during unprecedented hardship for businesses was positive. While 16% of essential workers still going to work said their employer hasn't acknowledged the challenges of working and parenting right now and 22% said their employer "has acknowledged the challenges but still expects too much," 49% said their employer is trying to be accommodating. Of moms working from home, 14% said their employer hasn't acknowledged what they're up against, 25% said their employer has but still expects too much, and 56% said their employer is trying to be flexible.
We asked for examples of ways employers and coworkers are showing their understanding and generosity because stories of empathy are helpful to everyone right now, but also in the hopes that this information will help managers lead more effectively through this time. As you'll see, working moms' answers range from financial support and schedule flexibility to a sincere thank you. While many workers feel as though they have been left in a lurch, others have seen their employers and colleagues step up in above-and-beyond ways that have made all the difference.
Here are 11 things bosses and colleagues have done — and if they haven't, can start doing! — that working moms have found helpful as we all navigate our current normal: