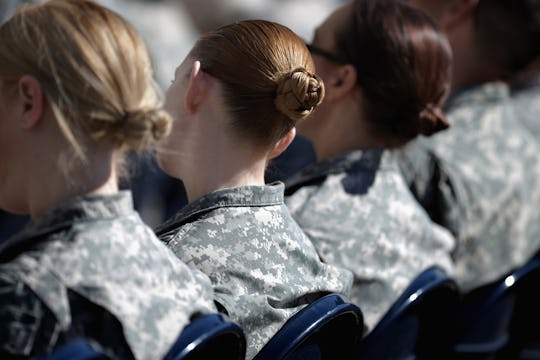 Chip Somodevilla/Getty Images News/Getty Images
Ma'am, Yes, Ma'am! Moms In The Air Force Can Now Wear Breastfeeding Shirts
Most moms don't jump out of airplanes or defend our country, but I've always been fascinated by, and completely proud of, women who combine a military career with motherhood. And now, doing both will be just a little easier. The U.S. Air Force has announced new rules that allow personnel to purchase their own shirts, meaning that moms in the Air Force can now wear breastfeeding attire. To which I say, hell, yeah!
The Air Force formally announced the policy change at the end of July, effective immediately, as reported by Motherly. "Airmen are authorized to purchase and wear a long or short sleeve breastfeeding t-shirt with their utility uniform," according to the Dress and Personal Appearance of Air Force Personnel, as reported by DVIDS.
That means mamas who are feeding or pumping while in uniform don't have to pull up their shirt entirely to take care of business. The new shirts, which come in sand and brown with nursing slots built in, are designed by a company called Miss Military Mom, as explained by Military.com.
All divisions of the military have struggled with how to handle female officers, including such questions as when and if they should be allowed in combat, as noted by The New York Times, let alone how to deal with breastfeeding moms. But an empowering 2015 snap of U.S. Air Force Reserve Officer Jonea Cunico feeding her son in full uniform by famed breastfeeding photographer Jade Beall, proved to be something of a game-changer.
Cunico, an Aircraft Electrical and Environmental Specialist, according to Breastfeeding In Combat Boots, was quoted as saying on Beall's Facebook page:
I know there will be people who don't agree with me nursing in uniform... There are no regulations forbidding me to do so. I am a mother. Both inside and outside of my uniform. Breastfeeding is part of motherhood for me... I have been contacted by the Air Force officials and they see nothing wrong with this photo!
Another photo series of military moms breastfeeding also went viral in 2015, as ABC News reported at the time.
Later that same year, the U.S. Army updated its own breastfeeding policy so that new moms weren't expected to breastfeed in a smelly bathroom, as was previously the custom, according to the Army Times. The new guidelines demanded that non-restroom spots be provided that allowed for privacy, a flat surface and access to water. Rep. Niki Tsongas, who pressed the Army to create such guidance, called it "a positive first step," according to the Army Times.
The updated instructions also offered suggestions on the duration of breaks for nursing mothers and required commanders to provide such breaks at least until the child's first birthday, the Army Times reported. Earlier this year, the Army also updated its own maternity shirt policy, allowing for nursing shirts from the same vendor, according to Breastfeeding In Combat Boots.
All this progress is wonderful, but it certainly didn't happen by accident. The U.S. Air Force breakthrough came at the urging of Tech. Sgt. Natalia Wood, a maintenance unit deployment manager, according to Military.com. Wood — a mom of three who is pregnant with a fourth child — told Military.com that she decided to push her division of the military after hearing about the Army's updated uniform policy, explaining:
I'm trying to normalize breastfeeding, not for me, but for all future generations... I was thinking more about everyone behind me. I just feel like we are the leader in securing our skies, but when it comes to this, we're lagging behind. I'm just trying to bring us up to speed, where we do support women who are breastfeeding and we do provide spaces [for nursing and pumping].
Air Force Chief of Staff Gen. David Goldfein also told Military.com, "We have women performing in every combat mission, and we owe it to them to have gear that fits."
Indeed. This new policy is certainly an important and empowering step in the right direction to providing support for military mamas and their families and normalizing breastfeeding, no matter the profession.