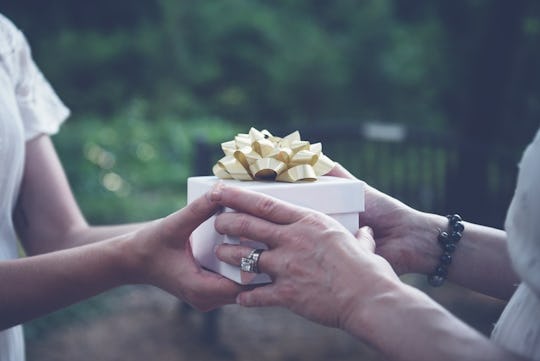 Courtesy of Shannon M. Clark, M.D./ CHERYL WHITNEY-HUEBNER, IMAGE STUDIOS GROUP LLC
This Mom's Photoshoot With Her Egg Donor Is Beautiful
Every pregnancy is unique and so is each woman's path to motherhood. But while these paths are all beautiful, some of them can be more difficult and emotionally draining for those who struggle with infertility. In an essay for Glamour, one woman detailed her journey with infertility and what came after — and this mom's photoshoot with her egg donor shows how families come in all sorts of ways, all of them as amazing as the next.
Shannon M. Clark, M.D., a maternal-fetal medicine specialist in Texas and founder of babiesafter35.com, wrote that she knew when she and her husband decided to get pregnant at 40 that it would be tough. After her first pregnancy ended in miscarriage, they decided to try IVF because it was the best option for her age. But multiple cycles of the fertility treatment did not result in a pregnancy and Clark and her husband had to decide which path to take next, whether that was adoption, surrogacy, or having no children at all.
"We agreed that having a child that was genetically related to at least one of us was important. This meant choosing to go down another, more challenging and complex path: using an egg donor and my husband's sperm," Clark wrote in the Glamour essay. She continued,
I strongly desired to experience pregnancy myself. I wanted to know what it was like to feel a baby kick inside me, see my body change, and experience that bond that is created when a couple becomes pregnant. I couldn't have a child of my own naturally, so I hoped that carrying a baby would allow me to make my contribution to us becoming parents.
After a lot of consideration, research, and discussions, Clark asked her husband to choose their egg donor because going through their profiles made her uncomfortable. "It was hard to be reminded with every profile that I wasn't going to be the biological mother of my child," she wrote. Her husband ultimately helped her choose a woman named Tara and from there the donor agency they worked with set up the egg retrieval.
Clark was advised to write Tara a letter because the donor process can take physical toll on someone and writing to them often helps the donor cope with what can be a difficult process. (According to the Mayo Clinic, women may experience cramping and feelings of fullness or pressure after an egg retrieval procedure, in addition to any lingering emotional phases that come with giving up what amounts to a part of yourself.) "I tried many times to sit down and write to her, but the words wouldn't come," she wrote. "Instead, I felt a strong urge to meet her."
They all eventually met in person when Clark was about 20 weeks pregnant with twins. They decided the best way to commemorate her pregnancy and their relationship was through a series of beautiful photos featuring the two women wearing long white dresses, and passing off a gift box with a gold bow on top, indicative of the gift Tara had given to Clark by donating her eggs.
The beautiful photos themselves were meant to both document Clark's pregnancy and to honor the woman who helped this new mom have the children that she and her husband had tried to have for years.
"Nothing about my journey to become a mother has been typical. I may not have been able to experience all of the typical things that a pregnant woman experiences, but what I do have are beautiful photos of my barely there belly bump with my husband and the woman who made my dream of becoming a mother a reality," Clark concluded her story. "I also have two beautiful babies who make every tear I ever cried worth it. For that, I will forever be thankful."
Clark's journey to motherhood was not easy, physically or emotionally, but these photos can always act as a reminder that her adorable twins were the light at the end of a long and a trying tunnel — and that Tara was there to help make it all possible.