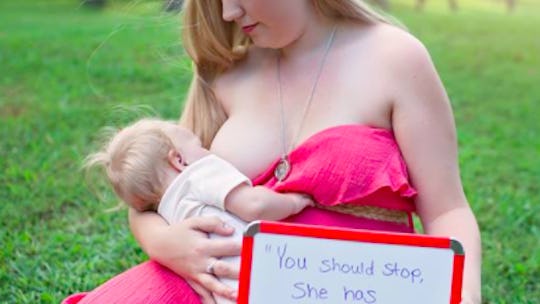 Nicki Kaylor Photography
Breastfeeding Moms Reveal Awful Things People Said To Them In A Stunning Photo Series
Moms who breastfeed are no stranger to rude people and comments about how and when they choose to feed their children. Which is why this photographer's breastfeeding series called "Latched With Love" is so genius. Tennessee-based photographer Nicki Kaylor gathered a group of breastfeeding women. Instead of just taking shots of the moms breastfeeding their children, which she also did, Kaylor had the women hold a whiteboard with the nasty things people have said to them when they decide to feed in public.
The contrast of the happy moms and kids with the rude and sometimes ignorant comments is striking. Kaylor said in a statement to The Huffington Post:
I put this series together because there's so much judgement against mothers nursing their babies in public. Absolutely no mother should be in public, feeling ashamed because her baby is hungry and she has to feed it. I did this as a movement ― simply to normalize breastfeeding and show that it's OK to nurse your baby in public, even if you don't have something to cover up with.
Let's remember — there's nothing unnatural or offensive about a woman choosing to feed her child. Here are just a few of the stunning images from the "Latched With Love" series.
"Use A Blanket"
"Can You Go To The Bathroom?"
"Isn't He Too Big?"
"She Has Teeth."
"Are You Serious?"
"It's Easier To Give A Bottle."
"You're Still Nursing?"
The pictures are beautiful — and the only complaint from one of the participants was that they want their husbands and partners to be involved with the next one. Because having a partner by your side that will stick up for you when you have to feed in public can make life a lot easier.
Kaylor wrote on her Facebook page, "If you nurse, I want you to know how PROUD I am of you. Nursing is a job all in itself. You could have easily quit and switched to bottles, but the determination has you where you are today. NURSING. You ROCK."
She added in her statement to The Huffington Post that she hopes the series will change the way people look at nursing moms. "I hope that anyone that sees my series comes to realization that it is just a mother feeding her child and there's absolutely nothing wrong with it and should not be frowned upon. It's normal. It's natural. It's beautiful."
The pressure for women to breastfeed is often unbearable. And it's not easy for many women, which is why the rude comments in public are even worse. No matter how a woman chooses to feed her child, they should be celebrated for doing it. What's worse, a baby howling because they're hungry in public or a woman feeding one?