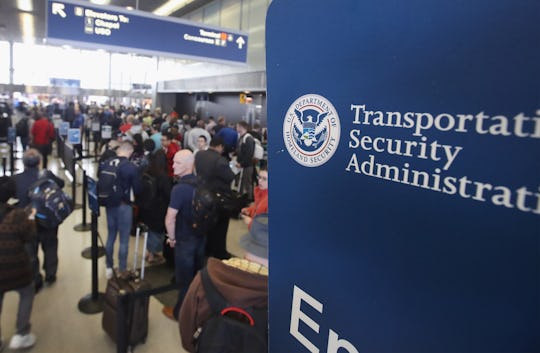 Scott Olson/Getty Images News/Getty Images
Mom's Video Of Her Son's TSA Pat-Down Goes Viral
In a Facebook post from earlier this week, Jennifer Williamson claimed that she and her son Aaron were "treated like dogs" as they went through the TSA checkpoint at Dallas-Fort Worth International Airport. Williamson said her son was detained for an extended period of time to be checked over by a TSA agent, and that he received a pat down that she believed was excessive and unnecessary, especially because her son has a sensory disorder. The mom's video of her son's TSA pat-down has since gone viral, prompting the Transportation Security Administration to respond with a statement about reaching out to Williamson to open a dialogue about the experience.
Romper reached out to the TSA for comment on the incident and their response to Williamson, and received this response from National Spokesperon Mike England:
TSA engaged in conversation with Ms. Williamson to learn more about her family's screening experience at Dallas Fort Worth airport. While the proper procedures were followed, we appreciate her feedback and look forward to continued dialogue. TSA has a long standing partnership with a coalition of disability advocacy groups, community-based organizations and individuals, and we welcome Ms. Williamson's input. TSA is committed to ensuring the security of travelers, while treating all with dignity and respect.
Romper has also reached out to Williamson for further comment, but did not immediately receive a response from her.
The mother of the 13-year-old boy posted a video of their experience on the social media site, and the footage of his pat-down at the airport security checkpoint quickly went viral. Williamson wrote in the post that the incident began after she asked if her son, who has sensory processing disorder, could be checked in a different way to keep from overwhelming him with touch. According to the STAR Institute, "sensory processing refers to the way the nervous system receives messages from the senses and turns them into appropriate motor and behavioral responses. Sensory Processing Disorder, exists when sensory signals are either not detected or don't get organized into appropriate responses." So it's understandable that a procedure that relies heavily on touch could be upsetting to a child with SPD who is unfamiliar with that procedure.
According to NBC News, Williamson said a TSA agent told her her son either had to have a pat-down, or he and their family would not be able to continue into the terminal beyond the checkpoint.
According to CBS News, the TSA agent said the boy cooperated during the process and all appropriate, approved procedures were followed. In a statement, the agency said the family was at the checkpoint for "approximately 45 minutes, which included the time it took to discuss screening procedures with the mother and to screen three carry-on items that required further inspection."
But after the controversy that's come as a result of Williamson's post going viral, TSA has reached out to her about the incident. NBC News reported that on Thursday, Williamson said she had been contacted by the agency, and that it asked her to take part "in a three-tiered solution" to make regulations for children and other people with challenges that their agents deal with more clear.
Being sensitive to these challenges is an important and necessary goal. According to PEOPLE, William said of her son, "he is still several hours later saying 'I don't know what I did. What did I do?'," in regards to the incident.
NBC reported that Williamson has been asked to become a member of a disabilities coalition within the TSA, and to work with it to write a piece on training for their agents regarding sensitivity in situations like these. The training is also supposed to help the agency to "clarify" language on its website about procedures.
In a statement to the outlet, the TSA stated that it reached out to Williamson. TSA spokeswoman Lisa Farbstein reportedly said in an email:
TSA engaged in conversation with Ms. Williamson to learn more about her family's screening experience at Dallas Fort Worth airport. While the proper procedures were followed, we appreciate her feedback and look forward to continued dialogue.
Williamson has said it's important to address how children and people with challenges like the ones her son faces have different needs when they're going through a security checkpoint, and I agree. I have family members and friends on the Autism spectrum, and with other sensory processing concerns. The agency should do better when it comes to being sensitive to these needs, and it's definitely encouraging that the TSA has confirmed that it reached out to Williamson to address the issue. The statement to Romper, and the response NBC, are both certainly promising.
CBS reported that new TSA procedures took effect on March 2. The different variations of the pat down agents have used in the past have been combined into one standardized procedure — apparently the one viewers witness in Williamson's video. Hopefully, the administration will continue to work towards making the policies and practices in regards to this new procedure more sensitive to people like Aaron and others with similar needs.