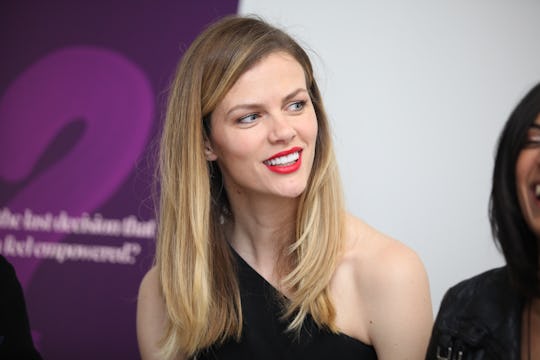 Kelly Sullivan/Getty Images Entertainment/Getty Images
This Video Of Brooklyn Decker On Her Son's First Day Of Daycare Is So Relatable
Saying "goodbye" to your kid on the first day of school isn't easy, especially if you're a mom with a child who seems emotionally unfazed by the milestone. Now that back-to-school season has arrived, moms can definitely relate to Brooklyn Decker's video of taking her son to daycare. Get the tissues ready, moms, because this is going to be an emotional ride.
It goes without saying that Decker is 100 percent obsessed with her 1-year-old son, Hank Roddick. Ever since Decker gave birth to Hank in 2015, she has repeatedly sung the praises of motherhood and has posted a few adorable shots of Hank to Instagram. As one might expect, Decker was absolutely devastated by dropping off her beloved Hank at his first day of daycare on Wednesday.
In a video showcasing the aftermath of the drop-off, Decker sobbed to a supportive friend via speakerphone as she described the pain of leaving Hank behind. Apparently Hank's indifference (kids are resilient, right?) made the situation especially heartbreaking.
Through tears, Decker said, according to Us Weekly:
It's horrible. Oh my gosh, he just walked off. He was totally fine. There was this sweet woman, she just grabbed his hand and was like, 'Okay,' and they just walked away!
Luckily for Decker, her friend was there to offer words of comfort. To explain why Hank was seemingly OK to leave Decker, the friend said, according to AOL:
That's because you're a good mom and you made him so excited about this.
Sounds about right. Decker clearly did an amazing job of prepping Hank for his first day at daycare.
Despite the reassurance of her friend, Decker couldn't get past the emotional moment. Decker wrote in an Instagram post, according to ET Online:
Hank's first day of daycare was the WORST. For me. It was the worst for me. He was completely thrilled. He didn't even turn to say bye. 'Peace out, mom.'
Although this was clearly a sad day for Decker, at least she has her second pregnancy to focus on as she finds a way to cope with Hank's milestones. In July, Decker's husband, Andy Roddick, revealed she was pregnant with a girl.
Roddick wrote, according to People:
Brook, I don't know how you juggle it all. I see it every day and it still doesn't make any sense to me. You're an unreal artist, businesswoman, mother, wife, sister and friend. You hear a lot of guys who find it very tough to walk away from professional sports. You're the reason why my personal transition into a quasi-normal, everyday life has been gratifying and full. Hank will someday realize how lucky he is. Our daughter that's coming will also realize she has the best mother on earth. Simply, thank you for being you.
Yes, Hank (and baby number two) is very lucky to have Decker as a mom. It's clear Decker cherishes every second with Hank and that she understands the impermanence of his childhood. It's a feeling a lot of moms can relate to, and Decker can rest assured that she's not alone in her heartache.