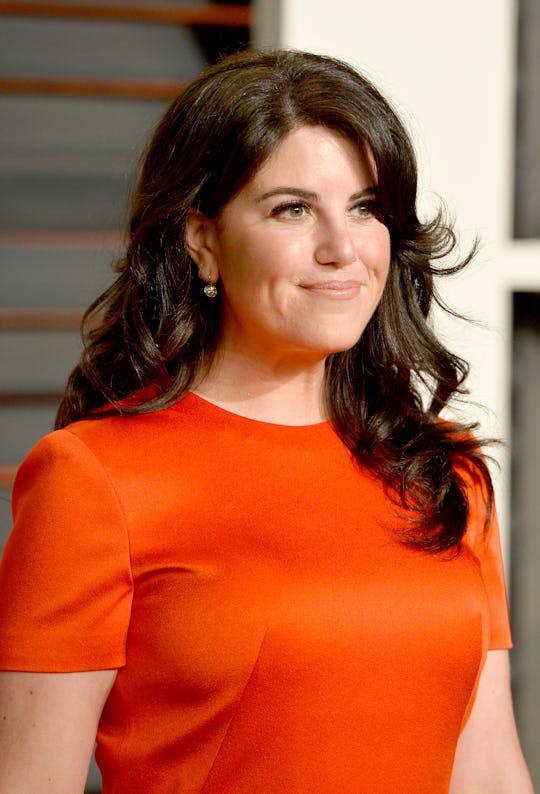 Pascal Le Segretain/Getty Images Entertainment/Getty Images
This Is The Important Reason Monica Lewinsky Walked Off Stage During An Interview
Though it's crucial for journalists to ask tough questions and tell true stories, upholding ethics and abiding by any predetermined agreements about what is and isn't okay to discuss could not be more important. However, that standard was breeched recently, as Monica Lewinsky walked out of an interview after being asked about Bill Clinton, despite specifically stating that she would not be addressing the matter any further to the press.
Us Weekly reported that in a recent interview in Jerusalem, Hadashot News anchor Yonit Levi asked Lewinsky: "Do you still expect that apology, a personal apology?" in reference to her purported affair with then President Bill Clinton during her tenure as an intern in the White House. "I'm so sorry. I'm not going to be able to do this," she replied before exiting the stage to a crowd of cheers.
The next day, Lewinsky took to Twitter to explain the situation further: "After a talk today on the perils and positives of the Internet, there was to be a 15 minute conversation to follow up on the subject of my speech (not a news interview)," she began. "There were clear parameters about what we would be discussing and what we would not. In fact, the exact question the interview asked first, she had put to me when we met the day prior. I said that it was off limits."
She followed up her tweet with another post, explaining that the question asked was in clear violation of their preset agreement, and that walking out of the interview was an important way to make a statement. "When she asked me it on stage, with blatant disregard for our agreement, it became clear to me I had been misled," she said. "I left because it is more important than ever for women to stand up for themselves and not allow others to control their narrative. To the audience: I'm very sorry that this talk had to end this way."
For those who aren't familiar, Lewinsky rose to notoriety in the 90s after having an alleged affair with Bill Clinton. In a TED talk she delivered in March of 2015, Lewinsky explained that her scandal occurred right at the brink of the Internet's birth, making her one of the first people ever to incur the wrath of digital trolling. Lewinsky has since decided to dedicate her life to the pursuit of anti-bullying and activism.
In a later interview with Vanity Fair, Lewinsky penned an op-ed in which she revealed that at the height of the scandal, she considered ending her life. It was then she came to understand the significance of owning your own story:
If I have learned anything since then, it is that you cannot run away from who you are or from how you've been shaped by your experiences. Instead, you must integrate your past and pres­ent. As Salman Rushdie observed after the fatwa was issued against him, 'Those who do not have power over the story that dominates their lives, power to retell it, rethink it, deconstruct it, joke about it, and change it as times change, truly are powerless, because they cannot think new thoughts.'
In another interview with Glamour, Lewinsky explained the difference between criticism and bullying, and why discerning the two is so crucial. "Shaming, harassing, and bullying cut deeply and can scar," she explained. "It's the difference between saying 'That's not my style' and 'She looks like a whore.'"
In the same interview, Lewinsky also noted how important it is to not only see the difference between constructive criticism and hatred, but for women to stand up for themselves, and other women, too. "Constructive criticism is legitimate, but when it escalates to vitriol, it affects us all, because celebrities and influencers are part of the collective consciousness," she said. "Women need to support other women, not cut them down. And that goes for recognizable women too."
In that context, Lewinsky's decision to exit the stage after specifically saying she wouldn't answer questions regarding the Clinton scandal is not just an important move for her, but a statement about what kind of treatment will and will not be tolerated.