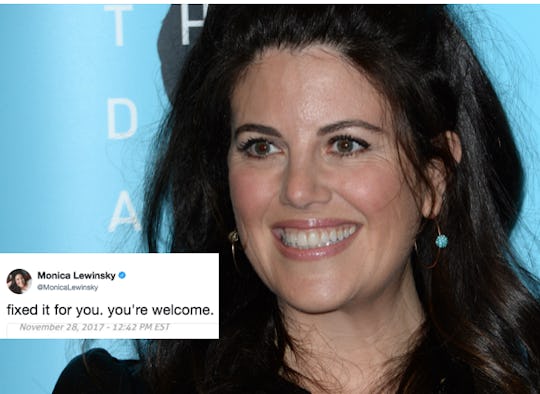 Eamonn M. McCormack/Getty Images Entertainment/Getty Images
Monica Lewinsky's Tweet On Sexism Proves We've Got A Long Way To Go In Supporting Women
This year has proven to be quite the catalyst for advancing women's rights and changing the conversation around assault, harassment, and the abuses of men in power. After The New York Times ran its powerful story about sexual harassment in the entertainment industry, and women all over the world pitched in with their stories of #MeToo, it seemed a bit like we (finally) flipped some kind of cultural switch that put blame where it belonged. However, as Monica Lewinsky's tweet on sexism today pointed out, we've still got a long ways to go when it comes to changing the script.
On Twitter, Lewinsky shared a screen capture of an article that read "HLN to revisit 'The Monica Lewinsky Scandal' with two-hour special," and crossed out the program's name, replacing it with options like "The Starr Investigation" and "The Clinton Impeachment."
"Fixed it for you," she tweeted. "You're welcome."
Romper reached out to HLN for comment, but did not hear back immediately. However, it's been nearly two decades since news first broke of President Bill Clinton's affair, and even today, Lewinsky has to fight against media characterizations of her. As she succinctly put it in a Vanity Fair article in 2014:
America's B.J. Queen. That Intern. That Vixen. Or, in the inescapable phrase of our 42nd president, "That Woman."
The 1998 scandal, to be clear, had little to do with Lewinsky and much more to do with Clinton. After all, one person was a president, married, and in a very public role. The other was a 22-year-old intern. It's clear where the responsibility should have lied then — and should remain today. And yet, Lewinsky has remained a well-known name for nearly 20 years, appearing in Beyoncé songs and media headlines long after the infamous affair was over.
Clinton, on the other hand, got to move on with his life. In recent weeks, as #MeToo has taken over social media and transformed conversations, he's made it back into headlines, of course — but over the course of the last two decades, it seems like Lewinsky mostly got the worst of it.
"With every marital indiscretion that finds its way into the public sphere—many of which involve male politicians—it always seems like the woman conveniently takes the fall," Lewinsky wrote in 2014. And judging by the title of Sunday night's special, she's still correct about that today.
Considering the sexual misconduct allegations taking over headlines these days, Sunday's two-hour special on Clinton's affair in 1998 is likely to focus more on Clinton and the sexual misconduct allegations that took place during his presidency. (Clinton's lawyers have denied all allegations, according to The New York Times.) And yet, the title of the true-crime special remains. "The Monica Lewinsky Scandal."
Sure, calling a program "The Monica Lewinsky Scandal" is likely to draw more eyes to the show, because we still live in an inherently sexist society, and there's inherently sexist history tied to Lewinsky's name. But for things to change, the media needs to start valuing social change above clicks or profits. And if they don't, then viewers need to remind them to do so, by voting with their clicks and their dollars.
Especially after the year the United States has had — after hearing so many women's stories of sexism and harassment in 2017 — maybe someone in the production of the program should have stopped and said, "Hey, maybe we should think of a different name. Maybe this isn't such a grand idea."
It's not going to be easy for society to do a 180-degree turn and start changing the way it treats women. But it needs to — and calling out program names and headlines that are sexist is a great place to start, even when it's a good 20 years overdue.
Check out Romper's new video series, Romper's Doula Diaries:
Watch full episodes of Romper's Doula Diaries on Facebook Watch.