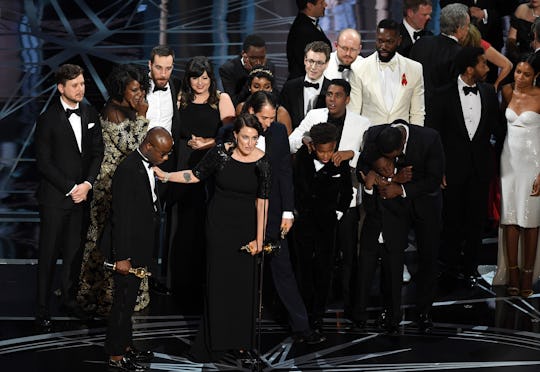 Kevin Winter/Getty Images Entertainment/Getty Images
Well, That Was Awkward
Well that was interesting. At Sunday night's Academy Awards, presenters Warren Beatty and Faye Dunaway mistakenly read the wrong card while giving out the award for Best Picture, accidentally handing the statuette to the cast and crew of Damien Chazelle's La La Land, rather than Moonlight. To no one's surprise, when the mix-up was sorted and the night's actual winners finally took to the stage, the Moonlight cast response to winning Best Picture (if you could even call it that, at that point) was undeniably awkward and uncomfortable.
Initially, the cast and crew of La La Land took the stage excitedly, prepared to receive their statuettes and slap one another on the back for its huge win. (To be fair, La La Land did manage to take home the Oscar for Best Director, Best Actress, and a handful of smaller category awards.) As the producers began their thank-yous, however, a flurry of activity behind them could be seen, though producer Marc Platt, who was, at the time, giving a speech of his own appeared blissfully unaware. It was at that point that Platt's fellow producer, Jordan Horowitz, and a stagehand intervened.
"Guys, guys, I'm sorry. No. There's a mistake," Horowitz said, taking over the microphone and turning to the cast and crew of Moonlight who had been applauding politely from their seats in the audience. "Moonlight, you guys won Best Picture."
When the crowd and Moonlight crew failed to respond, Horowitz continued. "This is not a joke. This is not a joke — Moonlight has won Best Picture," he said, turning to grab the presenter's card as evidence. "Moonlight: Best Picture," he read, holding it up for the audience to see.
As the cameras panned back to the audience, a shell-shocked Moonlight troupe — and, arguably, everyone else in the room — seemed unable to grasp exactly what had just happened. Director Barry Jenkins and producer Adele Romanski embraced momentarily before both covering their mouths with their hands. Best Actor in a Supporting Role winner and Moonlight star Mahershala Ali, too, covered up any discomfort he may have been feeling by embracing a colleague.
That residual awkwardness didn't go away once the Moonlight cast and crew finally climbed the stairs to thank the Academy for its sudden win, with the two teams passing one another, offering congratulations, mouths still agape. La La Land producers Horowitz and Fred Berger remained on the stage in the background for a few more moments to speak personally with the Moonlight crew, the entire group seemingly confused.
"... Even in my dreams, this could not be true," Jenkins said, after finally approaching the microphone. "But to hell with dreams, I'm done with it. 'Cause this is true. ... And I have to say, this is not fake, we've been on the road with these guys for so long, and that was so gracious and so generous of [the La La Land team]... My love to La La Land. My love to everybody." Behind him, actress Janelle Monáe raised her fists in the air victoriously.
"Thank you to the Academy... I don't know what to say," Romanski joked awkwardly, once Jenkins passed her the microphone. "I'm still not sure this is real." Turning to acknowledge the rival team, she added,
It is so humbling to be standing up here with ... hopefully, the La La Land crew—no? OK, they're gone. But it's very humbling to be up here. ... And I think, I hope even more than that it's inspiring to people, little black boys and brown girls and other folks watching at home who feel marginalized and who take some inspiration from seeing this beautiful group of artists held by this amazing talent, Barry Jenkins, accepting this top honor. Thank you.
Jenkins — seeming to have finally found his footing — noted, according to Esquire,
There was a time when I thought this movie was impossible, because I couldn't bring it to fruition. I couldn't bring myself to tell another story. Everybody behind me on this stage said, no, that is not acceptable. I want to thank everybody up here behind me. Everybody out there in this room. We didn't do this. You guys chose us. Thank you for the choice. I appreciate it. Much love.
Regardless of the obvious discomfort the moment prompted, the Moonlight crew managed to finish the night on a high note. But make no mistake: The fallout from the Best Picture debacle on Sunday night is far from over.