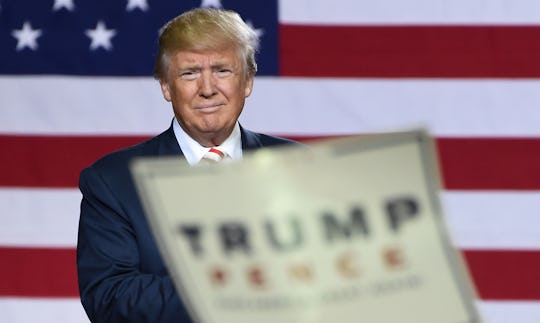 ROBYN BECK/AFP/Getty Images
More Donald Trump Comments Have Been Uncovered, But How Will It Affect His Campaign?
If you thought the latest revelation of Donald Trump's lewd and objectifying comments about women was the final tipping point of this year's election, you might need to take a seat. Just one day after The Washington Post published footage from 2005 of Trump bragging about how he could use his fame to get away with forcing himself upon married women, CNN's KFile unit uncovered even more comments Trump made during conversations with radio shock-jock Howard Stern. These unearthed recordings of horrifyingly demeaning conversations about women including his own daughter, which happened over a 17-year period, comes on the eve of the second presidential debate. But, will it affect his campaign?
The GOP nominee has faced unprecedented criticism and many prominent Republican figures have since called on Trump to drop out of the race. Even more, the Republican National Convention is also reportedly looking at other options to replace Trump following what his comments have brought to his campaign in the last 24 hours.
Among the latest revelations released by CNN, Trump allowed Stern to call his daughter Ivanka a "piece of ass," joked that once a woman turns 35 she's hit her "check-out time," in addition to having sex with women on their menstrual cycles and how he'd sneak backstage at Miss Universe pageants to see women's nude bodies.
These conversations only add to the long line of alleged misogyny that would undoubtedly threaten the future of the nation's women if Trump wins the presidency this November.
And while these revelations are certainly shocking and beyond abhorrent, at this point in this 2016 presidential race Trump's views and treatment of women are far from a secret. But what remains unclear is how much the outrage these latest sexist comments has garnered will actually affect the Trump campaign.
As for what Trump thinks, the presidential candidate has no plans of backing down from the race.
"I'd never withdraw. I've never withdrawn in my life," Trump told The Washington Post on Saturday. "No, I'm not quitting this race. I have tremendous support."
Actually, Trump has lost support and endorsements from a growing list of leading Republican figures, including conservative radio talk show host Hugh Hewitt, Carly Fiorina, who lost to Trump in the GOP primary, and former Secretary of State Condoleezza Rice, who wrote "Enough! Donald Trump should not be President. He should withdraw" in a Facebook post on Saturday.
But with Election Day just a month away, replacing Trump as the GOP nominee is much easier said than done — even if Republicans are looking for a way out of this political disaster.
"People in the GOP are understandably nervous. People are looking for an escape," Ben Ginsberg told NPR, who is a leading Republican election lawyer at the Jones Day law firm. "The rules don't provide a ready-made escape."
Ginsberg continued to tell NPR on Saturday, "The RNC rules allow for replacement of a candidate on death or declining the nomination, but no provision for replacing. At this stage, Donald Trump would have to resign. There's no way to stage a coup."
And if Trump were to resign — which doesn't seem to be a likely situation — it would still be a very long and complicated process to get a new candidate on the ballot in just four weeks. Ginsberg explained in the same NPR interview:
Under the rules, if there is a vacancy, it doesn't go to the VP candidate. It's a matter of rules. It can be anyone. Part of what the RNC would have to do is figure out the nomination rules to see who would be eligible. It's an all-bets-are-off scenario. There might be a political consensus for Mike Pence, but it is not mandated by the rules.
What is clear, however, is that the Trump campaign is in a lot of trouble, otherwise none of these conversations would be happened. And with the much-anticipated second presidential debate taking place tomorrow night and Election Day just 30 days away, Americans might finally know whether or not these leaked conversations uncovered this weekend is the long-overdue make or break moment for the Republican candidate.