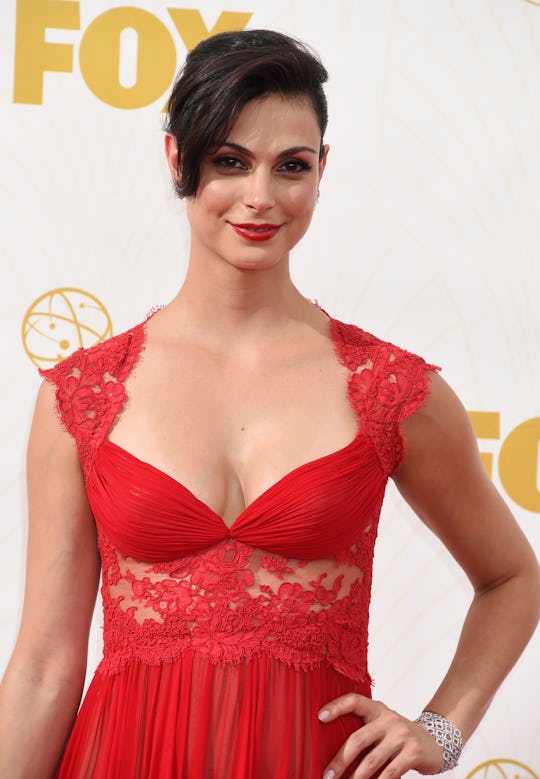 Morena Baccarin Delays Divorce Because Of High-Risk Pregnancy & It's Amazing She's Speaking Out
Morena Baccarin isn't going to let messy divorce proceedings put any more stress on an already high-risk pregnancy, and I wish I could give her a big high five for standing up for herself and her baby. Baccarin, who stars in Gotham with her boyfriend and baby daddy Ben McKenzie, is eight months pregnant and already at a "high risk" for complications. So, instead of going ahead with a scheduled divorce deposition on Feb. 3, Baccarin asked to delay her divorce until 30 days after her baby is delivered, barring any complications. How awesome of her to serve as an example to women everywhere, that it's just fine to put you and your baby's health first. Love that.
Baccarin filed court paperwork that explained her doctor advised:
...that sitting (as to answering questions) for a deposition, regardless of length of time, is unduly and unnecessarily stressful to me at this time. Such stress will affect my personal well-being and potentially cause harm to the health of my unborn child.
According to E! News, court documents said Baccarin's former husband of three years, screenwriter Austin Chick, had originally agreed to co-parent the couple's son in New York. But he moved to L.A. once he discovered the romance between Baccarin and McKensie, launching a custody war. Baccarin has been ordered to pay Chick $23,000 for child and spousal support.
Here's Baccarin and Chick in happier times.
And here she is with her new love and co-star McKenzie.
Regardless of the he-said, she-said details surrounding the relationship, it's obvious this entire situation is going to be contentious. It seems like a smart move for a woman who is about to have another baby to put all this mess on hold while she takes care of what really matters. In a world that too often requires women to push themselves to the brink during their pregnancies to prove they can "do it all," women can use all the role models they can get who are willing to put themselves and their well being first. So, nice job and get some rest, Morena. Everything else will just have to wait.