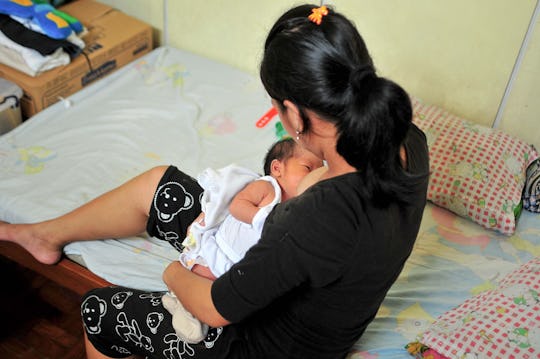 Veejay Villafranca/Getty Images News/Getty Images
Most Moms Do *This* While Breastfeeding, Research Proves
It's pretty much an undisputed fact that raising a child is hard work. Parents have to deal with sleepless nights, a lack of personal space, and very little free time, on top of countless other struggles. Luckily for younger generations, technology has proven to be a pretty nice tool to assist in motherhood, in numerous ways. Little ones can play educational games on tablets, and parents can relax and unwind with some binge-watching. In fact, most moms do this one thing while breastfeeding, so you're definitely not alone. Yes, we now have proof that Netflixing, Facebooking, and general email-answering while breastfeeding is totally normal, so queue up, y'all.
Per a new study, mothers everywhere can officially rejoice because research has proven that a lot of moms aren't just focused on their baby during feeding time. In fact, according to the Journal of Nutrition Education and Behavior, "Distractions were reported during 43% of feedings," and of those distractions, "26% involved technological distractors." The study, called, "Maternal Distraction During Breast- and Bottle Feeding Among WIC and non-WIC Mothers," surveyed 75 moms, both in WIC programs, and not in WIC programs, and asked them to keep a diary for up to six days detailing their feeding schedules. The results included almost 3,000 feedings that were recorded, allowing researchers to get a fairly holistic view of feeding-time habits.
So, if you're a scrolling, multitasking momma, you are so not alone. In fact, you're part of an upcoming generation that's showing the world how all-encompassing motherhood really is. And while it may seem that Netflixing while breastfeeding isn't actually a good thing, per se, it's a lot more complicated than it appears. According to the researchers,
During early infancy, feeding interactions comprise a significant proportion of caregiver–infant interactions; thus, high-quality, synchronous feeding interactions provide the infant with both nutritive and socio-emotional benefits.
But, is indulging in a little bit of Orange Is The New Black while your baby is conked out on milk really that bad? Don't moms today deal with enough judgement?
MD, OB/GYN Pamela Berens, certainly thinks so. Speaking to Fit Pregnancy, Berens said:
I don't know that this is really different than the mother 50 years ago who would be distracted by her other five children while she is nursing her baby. I don't know that this is either surprising or detrimental—and the study doesn't necessarily suggest that it's detrimental, it just says that women are doing this.
Because really, the world is such a different place than it was even 10 years ago, and the way mothers feed their children has changed with the times. Sometimes, moms need a break. And catching up on the latest season of Unbreakable Kimmy Schmidt isn't going to have a huge negative impact on your baby, whether your breastfeeding your little one while watching, or bottle feeding (just be a little more careful about checking to see if baby is full, if you're bottle feeding, researchers suggest). Both WIC and non-WIC moms alike use some sort of distraction during feeding times. This latest research provides even more evidence that all moms are expert multi-taskers, after all.