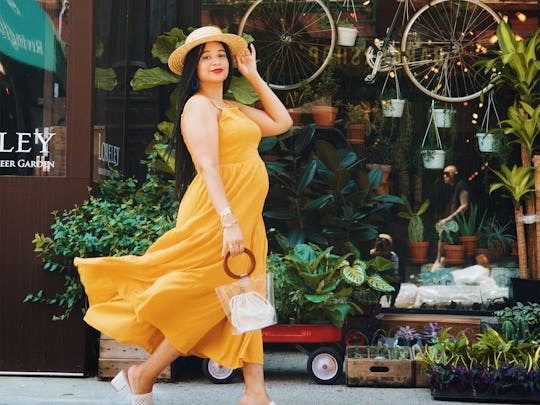 Courtesy of Audrey Williams
Motherhood May Look Nothing Like I Imagined, But I'm So Excited
This time last year, my most pressing life concern was figuring out how to plan a summer girl's trip that was equal parts affordable and Instagrammable. I was living on a writer's salary in New York City, and finding hotels, transportation deals, and planning an itinerary that appealed to a group of four women was a full-on project.
This year, I'm putting the same amount of work into a different kind of project: planning for a baby. In a short 12-month time span, I've found myself six-months pregnant, house hunting in a totally new city, and treading through the ins and outs of a career pivot.
Instead of "find cute boutique hotel" and "buy new vacation wardrobe," my current to-do list includes tasks like "build the changing table" and "stock up on Pampers Swaddlers." I hope it doesn't sound like I'm complaining — I'm not. I believe there's a way to master both of these ways of life — womanhood and motherhood — but as of now, motherhood is looking nothing like I expected, and that excites me.
Before finding out I was pregnant, I spent years in New York living a life my younger self had dreamed up. I was an editor at a popular women's website, I got invited to fun beauty and fashion influencer events, I had access to all the coolest, newest, most FOMO-inducing experiences I could ask for. I just knew I was the person I was meant to be.
Along this journey, though, I started to inspect who this person really was. Were the parties as rewarding as I thought they'd be? Was my life actually improved in any real way by all of the free beauty products I was getting? Was being a New Yorker worth the nonsensically high rent I was paying? Those thoughts started as whispers, easy to disregard by the louder noise of the city. And then, I got pregnant, and those whispers felt more and more like questions I needed to answer, and soon.
Of all the things I'd seen for myself, motherhood in New York before the age of 30 was not one of them. Whenever I did imagine myself as a mother, it was a version of myself who'd been with a long-term partner and had already settled into a structured life. Together, they owned a home, or at the very least had enough saved for a downpayment on one. She'd paid off the majority of her student debt and had been to every continent at least once. Her savings account was flourishing. Her first book was being shopped around. She knew how to make a proper roast chicken. Basically, she was much more of a stereotypical adult than I was.
Getting pregnant when I did felt like the sign I needed to make this version of myself happen, but deciding if she was someone I was ready to be wasn't easy. Could I stay in New York, or should I move back to the suburbs? Should I try to stick to my old career plan, or should I also take on a pivot in my professional life? Was I even ready to be a mother? The anxiety this caused was a daily experience.
It felt like making these changes would be a loss, but thanks to a few deep conversations with friends and a bit of therapy, my perspective shifted. I didn't see what I was losing; I started to visualize what I'd be gaining, and it excited me. I could create a new life — for myself and for my growing family. I'm someone who thrives off of new experiences, and what is motherhood but one grand series of new experiences? I know my choice will have its own unique set of struggles (How do I create a baby registry? What exactly goes in a nursery anyway? How many boxes of Pampers Swaddlers would a newborn actually need?), but what good thing doesn't?
These are the changes that make life life. Just like my 20-year-old self knew that New York was my calling, my 28-year-old self knows right now I'm exactly where I'm supposed to be, preparing for motherhood and growing into a new version of myself.
This post is sponsored by Pampers.